Chur lunch bag from Plankis.
Pleasure Hiking on the Dreibündenstein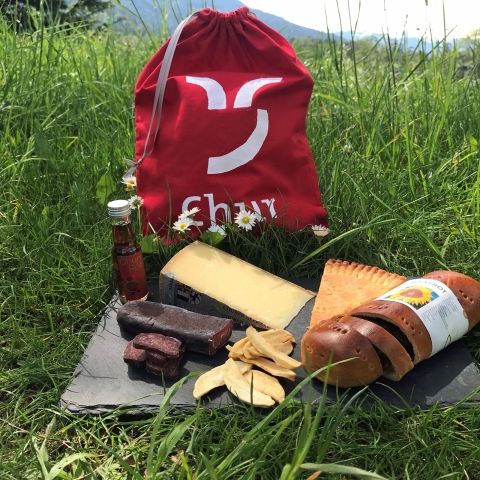 With the exclusive Chur lunch bag with selected Graubünden specialities from the Plankis Foundation, the circular hike from Brambrüesch to Feldis becomes a real pleasure hike. Find out what's behind it here.
The Plankis Foundation dates back to 1845. Originally an agricultural school for the poor with four children, today the foundation is dedicated to the caring living of disabled people and their meaningful employment. 150 people work in the bakery, floristry, gardening, home economics, creative handicrafts, food production and gastronomy.
The foundation also offers 55 places in four different types of accommodation. Plankis products are sold from May to October at the weekly market in Chur, in the Gelateria Evviva on Kornplatz and in the shop in Plankis itself. It goes without saying that the disabled people can also help with the sales.
The delicacies are also very well suited as food on the go. And so Chur Tourism launched a Chur lunch bag with such typical specialities as pear bread, Chur alpine cheese, fitness salsiz made from beef, apple slices and nut cake. Also included is a small bottle of Churer Röteli from the production of Andrea Ullius.
The lunch bag is also available to those who embark on the eventful pleasure hike from Brambrüesch to Dreibündenstein and on to Feldis. This tour leads through beautiful alpine flora and offers magnificent panoramic views of the surrounding mountains. The Dreibündenstein is a summit, plateau and historical border point all in one. At an altitude of 2,160 metres, it is a stone monument marking the common border point of the former Three Leagues. From up here there is a magnificent panorama over the mountain ranges of the Unesco World Heritage Tectonic Arena Sardona, the Grisons mountain world and far beyond. But because there are no places to stop on the Dreibündenstein plateau, the idea of the Chur Lunch bag came up. And so the culinary tour «Dreibündenstein Pleasure Hike» was created as a new bookable offer. 
«The Dreibündenstein is predestined for an enjoyable break,» says Michael Christ, responsible for marketing at Chur Tourism. «During a recent Plankis tour, I then thought: Sure, that's it! We'll make a lunch bag with Graubünden specialities using the great Plankis products.» The result is an offer that is not only practical and tastes good, but also gives people who don't have it so easy in life the good feeling that they too are needed.
And in winter? There's a suitable offer there too. Here, the Chur Lunch bag accompanies snowshoe hikers on the beautiful, signposted snowshoe tour from Brambrüesch to Feldis. The Dreibündenstein also has its own special charm in winter and enchants visitors with an all-round panorama of the snow-covered Grisons mountains. As with the hike in summer, by the way, there is also an attractive round trip ticket here, which not only includes the cableway rides, but also the return journey by bus or train back to the Alpine City.
The Chur lunch bag contains the following regional Plankis products: 
Graubünden pear bread
Chur alpine cheese
Fitness Salsiz (beef)
Dried apple slices
Piece of Graubünden Nut Tart 
Also a portion bottle of genuine Churer Röteli from www.roeteli.com. The products are presented in a red fabric bag with a hand-embroidered Chur logo - ideal for taking home or giving as a gift.
The Chur lunch bag can be obtained from Chur Tourism for CHF 45:
IMPORTANT: Online pre-order necessary 3 working days before collection
The culinary tour Dreibündenstein Pleasure Hike (round trip ticket Chur-Brambrüesch / Feldis-Rhäzüns / return trip Rhäzüns-Chur) including Chur lunch bag can be booked from CHF 78 at Chur Tourism in the Regional Info Centre as well as online. 
The culinary tour Snowshoe Pleasure Dreibündenstein (round trip ticket Chur-Brambrüesch / Feldis-Rhäzüns / return journey Rhäzüns-Chur) including Chur lunch bag can be booked from CHF 76 at Chur Tourism in the Regional Info Centre as well as online.