News 06.10.2022
News: BIG AIR CHUR 2022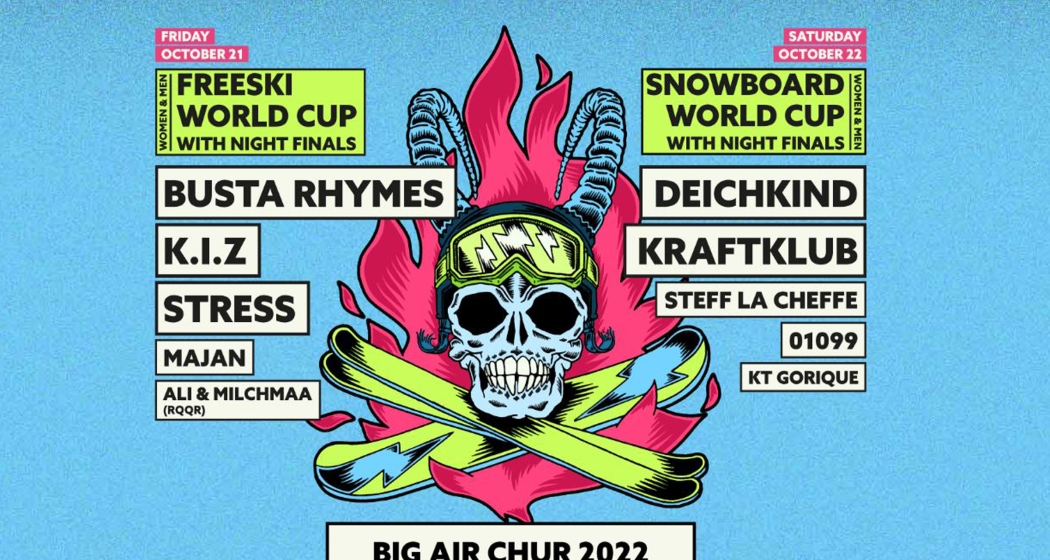 The world's freestyle elite will meet in Chur on 21 and 22 October 2022. At the FIS World Cup kick-off there will be a Big Air double whammy: freeski on 21 October 2022 and snowboard on 22 October 2022. Between the contests, stars such as Busta Rhymes, Deichkind, K.I.Z and Kraftklub will create a great atmosphere. A strolling and party mile rounds off the festival programme.
The BIG AIR CHUR festival will ring in the winter season for freestylers for the second time. 
At the FIS World Cup kick-off there will be a Big Air double whammy: freeski on 21.10.2022 and snowboard on 22.10.2022, endowed with 110,000 CHF prize money. Women and men will be vaunting jaw-popping tricks from the 40 metre high steel monster, making it all seem like Play-Doh when they land so seamlessly in the snow with their boards. There is also great music and a verbal Mexican wave escaping connoisseurs when they read the line-up, which features sports champions alternating with Grammy nominees. BIG AIR CHUR offers the very best in both urban music and freestyle sports. 
10 bands and 160 freestylers from all over the world and Switzerland will be ensuring great sound, gripping moments and a fantastic atmosphere. Headliners Busta Rhymes and Deichkind, the 2022 Olympic gold medal winners Anna Gasser, Mathilde Gremaud, Birk Ruud and Alex Hall, reigning Big Air world champions Andri Ragettli, Mark McMorris and the BIG AIR CHUR 2021 premiere winners in freeskiing, Tess Ledeux and Matej Svancer, as well as in snowboarding, Kokomo Murase and Jonas Bösiger – so much power and quality in one place, 
it's a season outset fit for a king! 
The festival is rounded off with gastronomy, industry and partner stands, such as Swiss-Ski, 
and you can get active yourself in the skate park. Tickets for the open-air spectacle on the 
21+22.10.2022 at Obere Au in Chur, Graubünden, are on sale at www.ticketmaster.ch. Travel 
options can be found at www.bigairfestival.com, and accommodation is available from the 
host tourist office in Chur.
Programme
Friday , 21 October 2022
Friday is all about the freeskiers. They will start the qualifying rounds in the morning, alternating with band performances in the afternoon, until the finals at 8 pm.when the subsequent main act Busta Rhymes will turn night into day.
Live over the Big Air:
FIS Freeski World Cup qualification and night finals 
Live on Stage:
Busta Rhymes, K.I.Z., Stress, Majan, Ali & Milchmaa (RQQR)
Saturday, 22 October 2022
The focus will be on the snowboarders for the entire Saturday and the crowning 
glory will be the final with the 16 best snowboarders conjuring their tricks in the night sky, and 
then partying with the audience in concert with Deichkind. 

Live over the Big Air:
FIS Snowboard World Cup qualification and night finals 
Live on Stage:
Deichkind, Kraftklub, Steff la Cheffe, 01099, KT Gorique
Tickets
Further information