Offer Culinary offers
Gastro(s)pass®
With style through the week: Enjoy 3 dinners for 99 francs!
Experience the 3-course dinner for a small price. Selected restaurants invite you to the Gastro(s)pass® from Sunday to Thursday. Enjoy three dinners for 99 francs. Choose between meat and alternative menu. Passugger/Allegra mineral water and coffee/tea will be served with your meal! Service is a top priority in all restaurants and enjoyment is called by its name!
New redemption period
The Chur Gastro(s)pass 2021 can be redeemed in participating establishments from 7 June to 6 October 2021.
A reservation by telephone is mandatory.
New: voucher
During the validity period, the Gastro(s)pass can now also be redeemed as a value voucher (no Gastro(s)pass menu) in the participating establishments on Fridays and Saturdays only.
Details
Sundays to Thursdays in the evening:
3 x 3-course menu incl. Passugger/Allegra mineral water and coffee/tea
Fridays und saturdays:
Value voucher for à la carte meal according to the menu card of the participating restaurant (Gastro(s)pass menus cannot be ordered).
Gastro(s)pass-gift envelope
The gift envelope is matt black with glossy black imprint "Gastro(s)pass". It is pre-punched so that the Gastro(s)pass and the menu folder can be inserted into the envelope. In addition, there is still enough space to write a greeting message with a white pen. You can wrap the Gastro(s)pass stylishly and the gift is ready to go. You won't have to search for a suitable envelope anymore. Buy now!
Purchase
The popular Chur Gastro(s)pass' can still be purchased online at www.gastrospass.com and is also available at the Regional Information Centre in the Chur railway station underpass and in participating restaurants. When you buy it online, you receive the Gastro(s)pass as a PDF and link and can either print it out at home or save it in the wallet app of your mobile phone.
You have three possibilities to buy a Gastro(s)pass®:
By credit card online
Cash in the Regional Information Centre in the Chur railway station underpass
At the usual terms of payment directly in the participating restaurants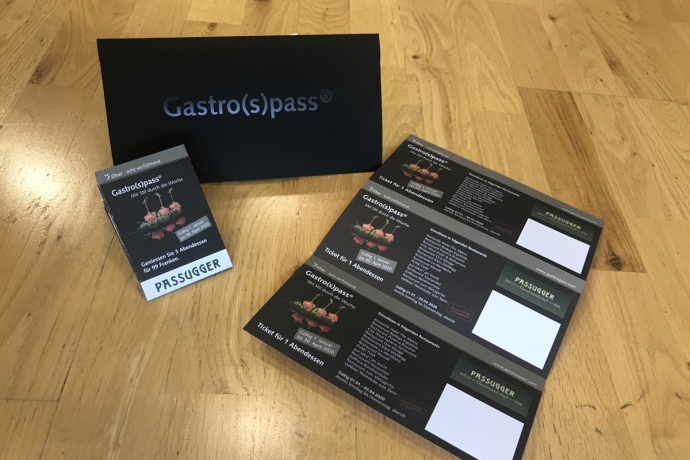 Show all 3 images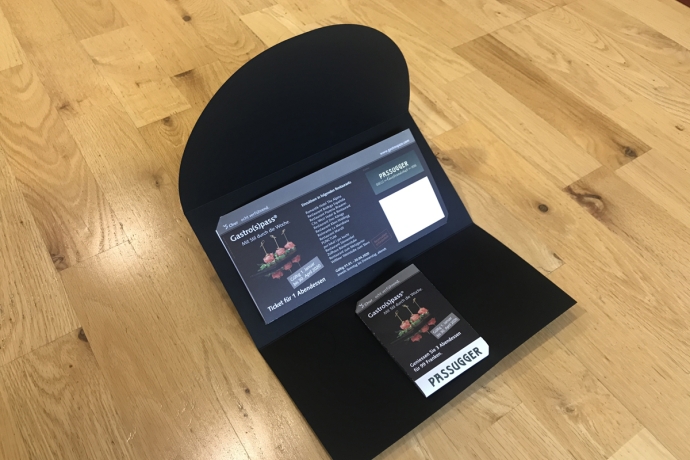 Discover further culinary offers
Whether individually or as a group, whether as a social programme or with an overnight stay, whether combined with other activities or focused on enjoyment - our culinary offers leave nothing to be desired. From culinary hikes to culinary guided tours and packages, there is plenty of enjoyment waiting for you here!