Event Alpenstadt Chur
Bar hopping for singles - Chur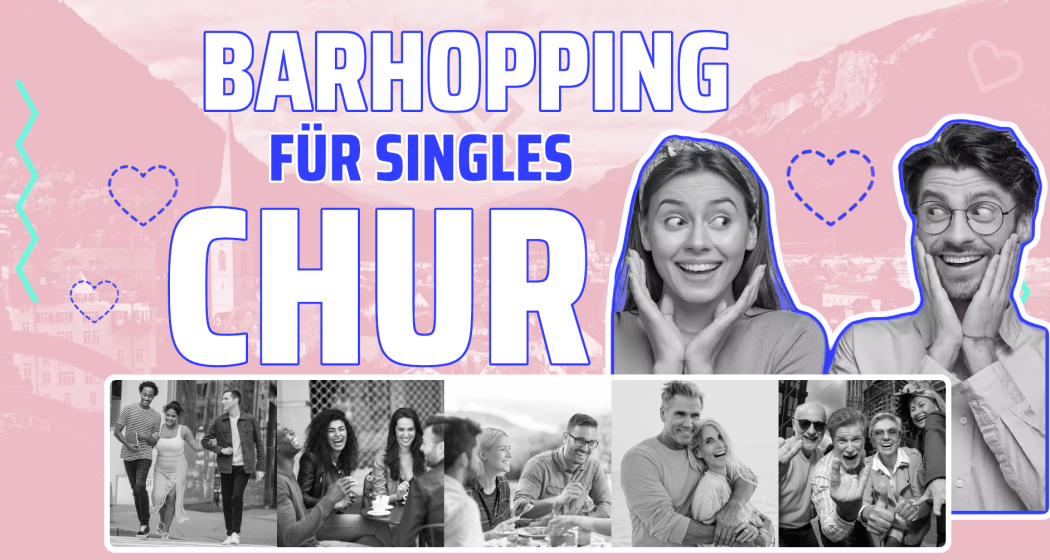 1 evening, 3 rounds, at least 18 singles. No speed dating. Meet singles from your area and get to know them in a relaxed and sociable atmosphere. Acquaintances, friendships, love.
Railway station SBB Chur
Bahnhofstrasse, 7000 Chur
Description
Date
02.06.2023 at 19:00 o'clock
14.07.2023 at 19:00 o'clock
25.08.2023 at 19:00 o'clock
06.10.2023 at 19:00 o'clock
17.11.2023 at 19:00 o'clock
Price
49.90 CHF
The price refers solely to the organization of the bar hopping event. Meals in the locations must be paid on site.
Ort
Railway station SBB Chur
When bar hopping for singles in Baden, you have the opportunity to get to know singles from your area outside of singles portals and dating apps.

The process
We form teams of 2-3 people from the participants. If you register with a colleague, you will be divided into a team together. The teams serve so that you don't have to go from location to location alone. There are usually 6-10 participants in the getting-to-know-you rounds, whereby care is taken to ensure that there is a balanced gender distribution between men and women.

Introductory Round 1
At 7:00 p.m. you will get to know your team and at least two others in the first location. You can have a bite to eat or a drink together with the other singles.

Introductory Round 2
At 8:30 p.m. the first change takes place. One team stays on site, the others go to other locations. So you get to know new singles in every round.

Introductory Round 3
At 10:00 p.m. the third change takes place and the mood becomes more exuberant. It's likely that you've already made some initial friends and flirted here and there. Together you will go to the final round at 11:00 p.m.
Final round
At 11:00 p.m., all participants will meet for a final round. Attention! Here you will meet more singles you don't know yet. So the flirting continues. Here you can end the evening together.
After the event, you will have the opportunity to vote online who you would like to see again. In a match, you can exchange your contact details and arrange a date for two.

Bar hopping for singles takes place in 8 cities in Switzerland. Zurich, Bern, Basel, St.Gallen, Lucerne, Winterthur, Chur and Baden.

Further information and dates can be found on barhopping.ch
Responsible for this content Webagentur Merz.
This content has been translated automatically.

This website uses content from Guidle.