Event Alpenstadt Chur
Next Crossroads Africa - Special Event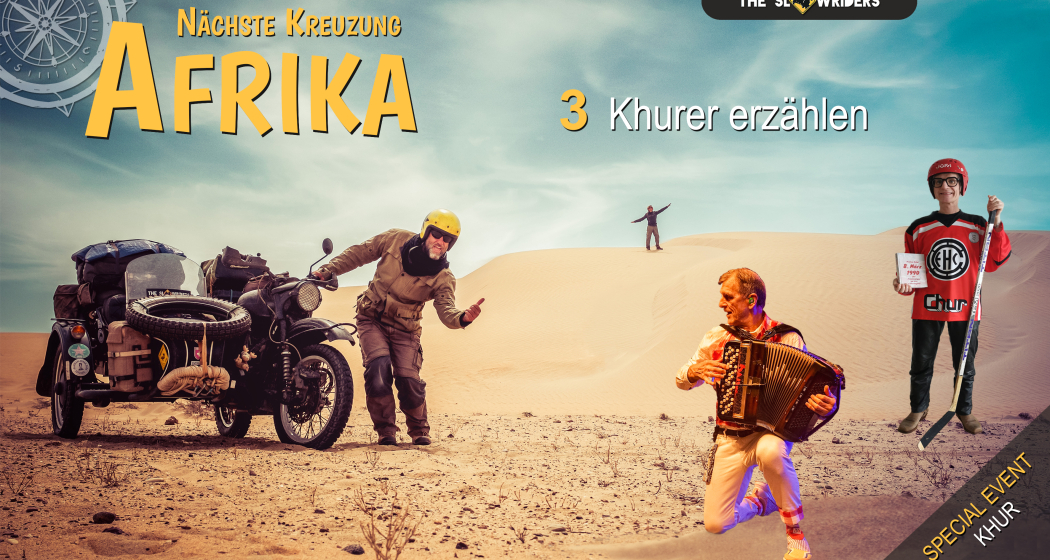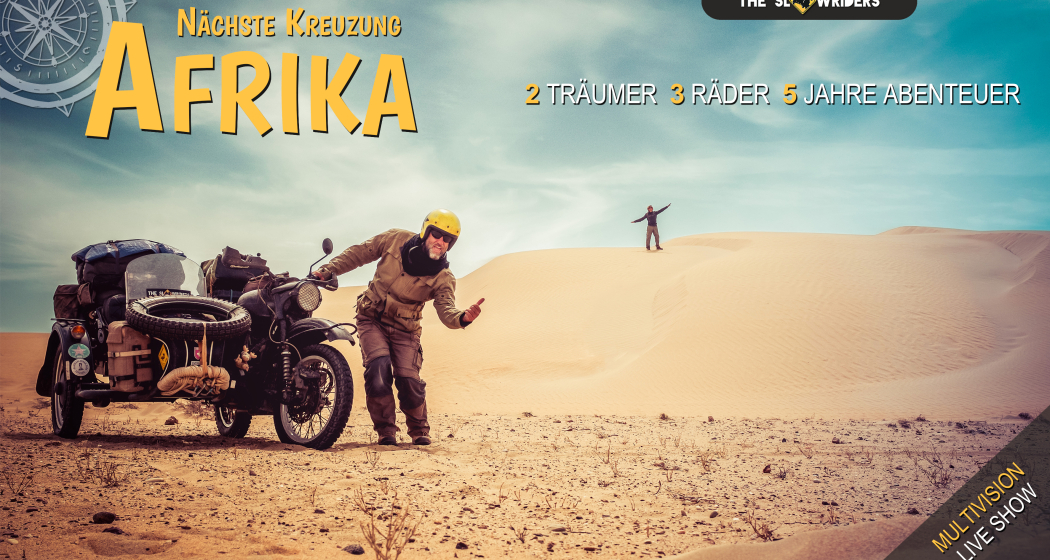 Show all 28 images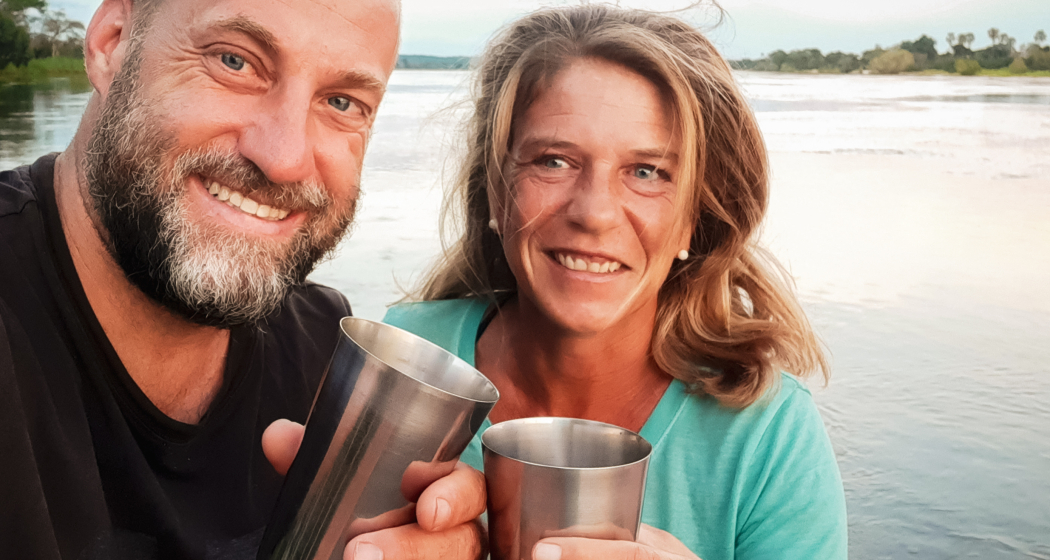 3 people from Khur talk about their eventful lives. In the main event, Corinne and Oliver take their audience on a five-year adventure through Africa. With the motorized tricycle.
Description
Date
24.03.2024 from 12:30 to 18:45 o'clock
Price
Advance booking: CHF 36.00
Box office: CHF 40.00
Event pass entitles you to attend all lectures.
Zeit
Opening of the hall 60 minutes before the start of the lecture.
Two dreamers - three wheels - five years of adventure. In the beginning there was a dream – an adventure trip from Switzerland, once around Africa. Corinne and Oliver, the two finally want to realize their long-cherished dream. They tried many years ago and failed unhappily. But it just won't let go of the two of them. "You should never give up on a dream, but start dreaming again," is her motto. Curiosity, courage, risk and passion are the prerequisites, indeed the stuff from which dreams are woven. The time is finally here in 2017. They summon up all their courage again and decide to try again.

But even before the start, they do not agree. SHE doesn't want to travel on two wheels, HE doesn't want to travel on four. The typical Swiss compromise? A tricycle! And thus a vehicle that seems completely unsuitable for a journey through the wildest continent on earth. When they set off from Switzerland with their overloaded Ural sidecar motorcycle, they planned to travel through the African continent for two years. Get out of the business jungle and into the wilderness – with a minimum of comfort. But two years turn into a long five. It's going to be the best time of your life. The new tasks as an on-board mechanic, pusher in the mountains of Ethiopia, rhinoceros watchdog in Namibia, lion hunter in Botswana or the attempt to find the last living dinosaur in the heart of the Congo Basin are just a few episodes from the adventure life.

When they arrive back in Switzerland in July 2022, with countless adventures, fantastic encounters and incredible stories in their luggage, their friends can hardly believe their eyes. "Habash", the old sidecar motorcycle is still running and actually carried it from Switzerland, once around Africa. It will be an adventure trip that you can't plan, but only experience.

In short: It became one of the most fascinating travel adventures of the current time, which can now be experienced in a gripping lecture! "Next Crossroads Africa" is a lively, image- and sound-rich narrative in multivision style.

Corinne and Oliver talk live about the adventure of a lifetime. Anyone who has seen previous performances of the two (From Beginner to Adventurer, Campfire Stories from Namibia) already knows the authentic storytelling, the humorous anecdotes and the inspiring presentation style. In doing so, they create a tingling tension - from the beginning to the end!


Further experiential lectures throughout the day:
The two "Klötza" Hassler and Tom Schai from Chur tell a turn from their eventful lives. One of them became a rock star at the age of seventy and has been playing in sold-out halls with the Stubete Gang for years. The other turned into a relatively unsuccessful hockey player. But a brilliant author who has written a brilliant book about his growing up and the failed ice hockey dream. His readings with musical accompaniment are worth a visit.

Expiration:
12:30 p.m. - 1:30 p.m. - Claudio "Klötza" Hassler | Suddenly a rock star at the age of 70
2:30 p.m. - 3:30 p.m. - Tom Schai | 8 March 1990 Swiss Champion - Memories of a hockey time in Chur
16:30 - 18:45 - Next crossroads Africa | Oliver Beccarelli & Corinne Anliker | 5 years of adventure in Africa
Contact
The Slowriders
Goldisberg 12, 3475 Hermiswil
Responsible for this content Oliver Beccarelli.
This content has been translated automatically.

This website uses content from Guidle.