Experience Graubünden's diversity from Chur
The Alpine City is the gateway to the holiday region of Graubünden. And Chur is not only easy to reach, but also an ideal starting point to experience the diversity of Switzerland's largest holiday region. No less than 26 mountain and spa resorts can be reached in less than an hour.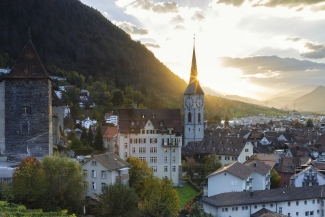 With a settlement history of over 5000 years, Chur is the oldest town in Switzerland. Particularly worth seeing are the bishop's castle, the three-aisled cathedral and the well-preserved buildings in the old town. You can learn a lot of interesting facts about the history and culture of the Alpine City on a guided city tour or individually with the City E-Guide. Or in the three cantonal museums of Graubünden, all of which are located in the city centre and offer an exciting insight into the art, history and nature of Graubünden. The car-free old town and the winding alleys invite you to take a leisurely shopping trip. Connoisseurs appreciate the numerous restaurants, where regional specialities from Graubünden such as capuns, maluns or pizokel are very popular.
Of course, in addition to gastronomy and shopping, the town also offers a number of leisure facilities such as two outdoor swimming pools, an indoor swimming pool with warm water adventure pool or a large climbing centre. 
Stay in one of the most centrally located hotels in Graubünden and use the Alpine City as an ideal starting point. From cosy and inexpensive guesthouses to upscale city hotels; you are sure to find suitable accommodation here. View & book hotels now.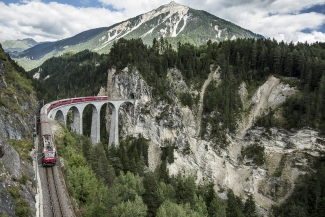 Chur is also the starting point for rail travel with the Rhaetian Railway and its world-famous panoramic trains Bernina and Glacier Express. Whether it's the surrounding resort towns such as Davos-Klosters, St. Moritz and Bad Ragaz, or sports and leisure destinations such as Arosa, Lenzerheide and Flims-Laax, the neighbours can all be easily reached by train and post bus directly from the city on the Rhine as a day trip. With the offers Graubünden Rail Adventure and Alpine City & Bernina Express, guests can combine panoramic journeys through the magnificent landscape of Graubünden with a stay in the Alpine City of Chur - and benefit from attractive package deals.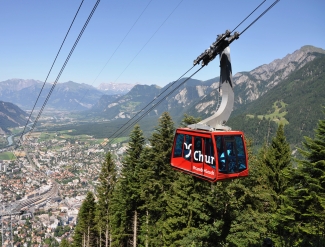 The Chur Cableways go directly from the city to the Brambrüesch high plateau. From spring to autumn, visitors can expect beautiful mountain summer meadows, unique alpine flora and breathtaking panoramic views. The circular hikes over the Dreibündenstein to Pradaschier or Feldis offer an extremely varied hiking experience, in the case of Pradaschier even with a fun toboggan run at the end. With the Alpenbikepark Chur and its 5 freeride trails as well as spectacular enduro bike tours, Brambrüesch is also in the top league when it comes to mountain biking experiences. Those who prefer a more leisurely ride on two wheels simply rent an e-bike from Outside Chur and discover the Rhine Valley and the surrounding mountains from the comfort of their saddle. An interesting moorland course and fun scooter runs for young and old round off the summer mountain experience. There are several cosy mountain restaurants with sun terraces for your enjoyment.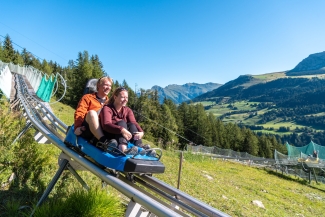 But that's not all for visitors hungry for adventure and exercise. The surrounding region offers a wide range of attractive leisure activities. With Pradaschier, Switzerland's longest toboggan run is only about 20 minutes away from the city centre. Chur is linked with Lenzerheide and Arosa to form the big BIKE KINGDOM and together they offer mountain bikers a range of activities that is unique in Switzerland. In combination with public transport, Chur offers countless possibilities for attractive hikes and bike tours that can easily be completed as a day trip. The Rhine Gorge not only offers a variety of hiking, cycling and biking tours, but also unique rafting experiences in the so-called «Grand Canyon of Switzerland».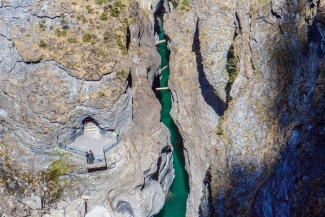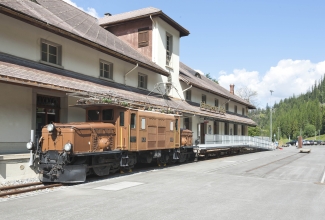 But those who prefer to go on a cultural voyage of discovery will not be disappointed either. The Albula Railway Museum provides exciting insights into the history of the Rhaetian Railway. Or the St. Martin's Church in Zillis, also known as the «Sixtina of the Alps», famous for its painted ceiling. Architecture lovers, on the other hand, can discover imposing buildings of contemporary architecture at various locations, such as the thermal bath in Vals by Peter Zumthor.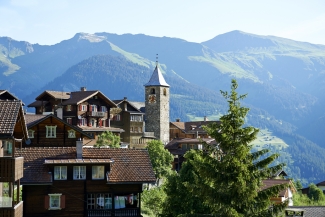 You prefer it quaint and would like to experience the original Graubünden? Then we recommend a visit to one of the many picturesque mountain villages in Graubünden. A special excursion tip is the scenic village of Tschiertschen, which was voted the «most beautiful mountain village in Graubünden». It is only about 20 minutes away from Chur and is also easily accessible by post bus. A visit to the sunny mountain village of Feldis is also highly recommended. You can reach it by city bus or Rhaetian Railway via Rhäzüns and then via a spectacular gondola ride that takes you over the Rheinauen of Rhäzüns, one of the last major natural river landscapes of the Rhine above Lake Constance.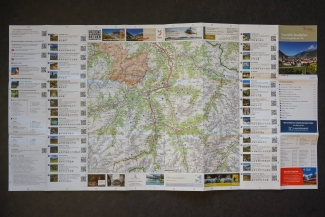 As a good orientation and planning aid, we recommend the Touristic City Map with excursion tips. In addition to a street map and lots of detailed information about the city, there is also an excursion map for the surrounding area on the back. It covers a wide range of excursion destinations from Chur throughout Graubünden. The numbered excursion destinations are marked on the map in their exact positions, and the Rhaetian Railway network and mountain railways are also visible as red lines. The excursion map is a high-quality topographic map (Swisstopo), with numerous hiking trails also listed.