Chur, the oldest city in Switzerland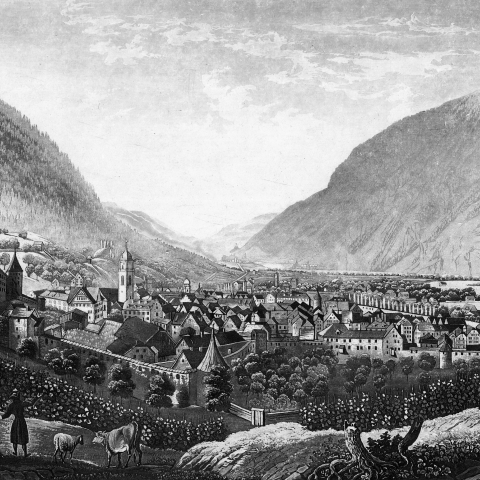 Areas of today's town of Chur were inhabited from the Neolithic Age to Roman times, as archaeological excavations prove. The first finds even date back to the Palaeolithic Age. This is why Chur calls itself the oldest town in Switzerland.
The history of Chur goes back a long way. 13,000 years ago, Paleolithic hunter-gatherers lived for a time in the present-day town area. There is evidence of permanent settlements in the Bronze and Iron Ages (ca. 2200-15 BC). Under Emperor Augustus (15 BC), the Romans conquered the region and incorporated it into their world empire.
Chur lies at the crossroads of several routes: from the Rhine Valley to the valleys of the Oberland/Surselva or Schanfigg and over the passes of Julier, Septimer, San Bernardino and Splügen to the south. Thus it is that Chur, which is conveniently located for traffic, was already mentioned early on (around 280) in a Roman road register. Chur has experienced an eventful destiny as a Roman vicus, bishop's and later guild town, suburb of the League of God's House and cantonal capital of Graubünden.
Overview historical development
Prehistory and Antiquity
11000 BC - 450 AD: First traces of settlement and Roman settlement
Middle Ages
451: Chur becomes a bishop's town
1299: Episcopal jurisdiction
1465: Chur becomes a guild town
Modern era
1523 - 1527: Reformation
1618 - 1641: Graubünden disturbances (Revolt of the Leagues)
1799 - 1803: End of the Free State of the Common Three Leagues, creation of the Canton of Graubünden.