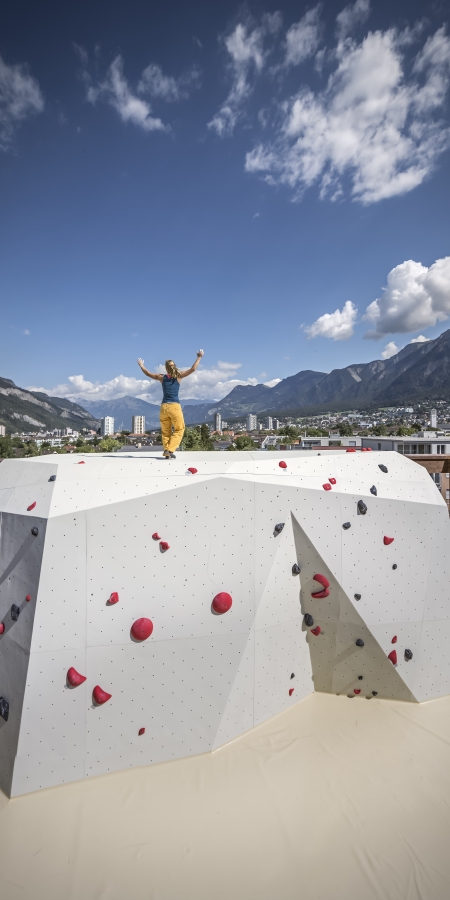 There are many climbing areas in Graubünden: Prättigau, Puschlav, Bergell or Mesolcina. Chur offers you the possibility to set off in all directions depending on the weather. The Haldenstein climbing garden and the Pinut via ferrata are in close proximity to the Alpine City. In the city area, the Ap'n Daun climbing centre and the boulder hall Quadrel offer great climbing and bouldering opportunities all year round.
Climbing center Ap'n Daun Chur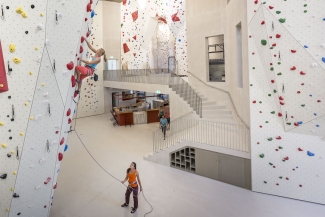 The Ap'n Daun climbing center offers everything a climbing enthusiast could want over an area of 2,000 square meters: a main hall including gallery with various wall structures, two boulder rooms, a training site with a practice wall, and a balcony with a spacious outdoor climbing area - mountain view included. The climbing centre thus offers attractive climbing opportunities for all levels of difficulty. Numerous indoor and outdoor courses for young and old, beginners and professionals, complete the facilities. The equipment can be rented on site.
The boulder hall Quadrel is with 700 square meters one of the biggest boulder halls in Switzerland. Besides different main walls with different steepness it offers a specific area for beginners and children, a national competition wall as well as a training area for ambitious boulderers. A spacious children's paradise and a cosy bistro, where you can enjoy excellent coffee, drinks and small meals, complement the offer. 
Haldenstein climbing garden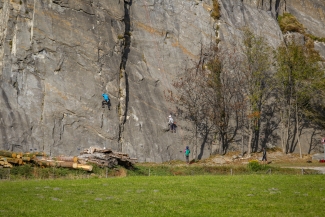 Haldenstein climbing garden is considered Switzerland's first of its kind. Already in the 1950s it was a popular "playground" for climbers in and around Chur. Thanks to a great restoration effort in 2012/2013, many of the routes have been improved, signed and made safer, and there is a new information board with an overview of all the routes. The terrain is child-friendly and easily accessible within two minutes.
The Pinut is the oldest existing via ferrata in Switzerland. For the first time he is mentioned in writing in 1739. Around 1800, the trail was used by the Fiazer farmers to Wildheuete. But the hay should have been enough for a cow. If you climb up here today, you will experience nature close up, can exercise and enjoy a beautiful view. The view from the metal stairs out of the wall is indeed breathtaking. Anyone who is free from giddiness and sure-footed will be enthusiastic. The Pinut is consistently secure and is rated in the SAC scale with K1-2. In summer there are regular guided tours.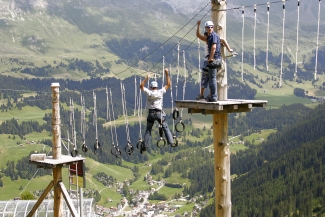 The rope park is designed so that children from 10 years can test their skill and courage, as long as they are supervised by an adult. The three courses with different skill levels offer the perfect stage for adventurers, climbing enthusiasts and naturalists to enjoy themselves in a beautiful forest area. The courses are accessible without any prior experience. Visitors will be instructed by the rope park staff. Thanks to the new zip wire, visitors can soar  like an eagle for 150 metres over alpine pastures. The rope park can be reached from Chur in about 20 minutes by post bus or car and then by chair lift from Churwalden.
Overview of climbing areas
The overview of all climbing areas, boulder spots and via ferrata with map view can be found on the following portal: