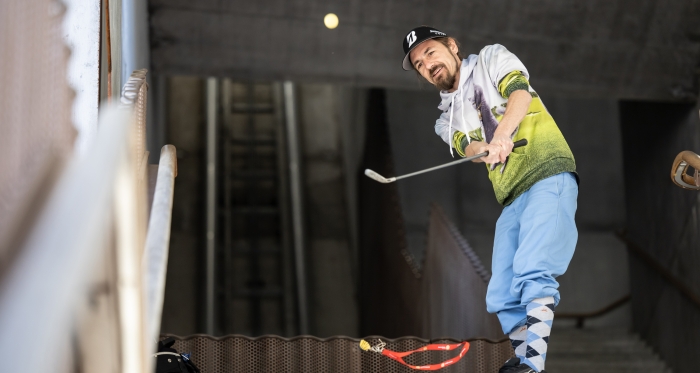 Discover the picturesque old town, great sights and hidden places playfully with a round of Urban Golf.
Urban golf is a variation of classic golf. However, it is not played on golf courses, but in all possible places that allow a game. Thanks to a special softball, you can play in the city's alleys, parks and other special locations. There are a total of 9 holes to master. Instruction and equipment are available at the Regional Information Centre from Chur Tourism.
Chur's Urban Golf Course is arranged in such a way that you also get a sightseeing trip of Chur, starting at the station and then proceeding clockwise. You will come across quaint alleys and plazas in the picturesque old town that you might not have discovered on a normal tour of the town. Enjoy the special atmosphere of Switzerland's oldest town, while you work your way from course to course. Rock'n'hole!
Game Rules
The constantly changing setting, e.g. pedestrians and cyclists, is all part of Urban Golf. In order to avoid conflict, please yield. When necessary, communicate actively and in a friendly manner («We are playing with a special softball on the official Chur Urban Golf Course»).

In Chur, Urban Golf is only allowed on specifically defined courses, which were approved by the city council.

You are only allowed to play with the special Urban Golf equipment (Urban Golf Softball, Bäseli as a tee).

If certain courses are occupied due to events or other reasons, two replacement courses are available (further information on this will be provided by the issuing office).

The courses are in areas open to the public. Please be considerate and make sure to avoid dangerous situations and to not cause a disturbance. Chur Tourism does not assume any liability.
Process and important information
Material will be handed out and taken back at the Regional Information Centre at Chur Tourism. Please pay attention to the opening hours.
A deposit of CHF 10 per play set must be paid, which will be refunded when the material is returned completely.
Special children's clubs are available, Urban Golf is recommended for ages 6 and up.
Detailed information about the course and further instructions are listed on the information sheet which will be provided when the material is handed out. 
Urban Golf takes place outdoors. Within the framework of the ordinances, the game is also possible for a limited number of players during the Corona pandemic. There is a protection concept (PDF) approved by the city police.
#UrbanGolfChur
Show us your urban golf skills on Facebook and Instagram with @churtourismus und #urbangolfchur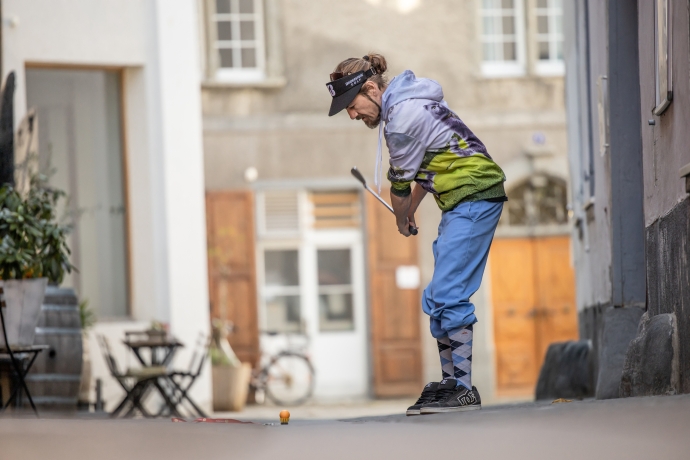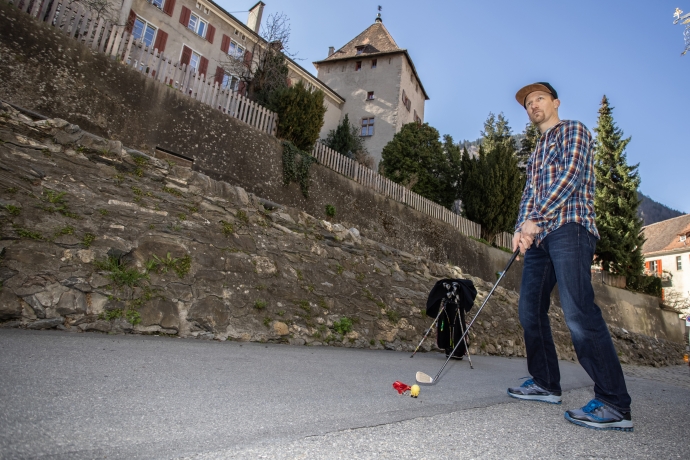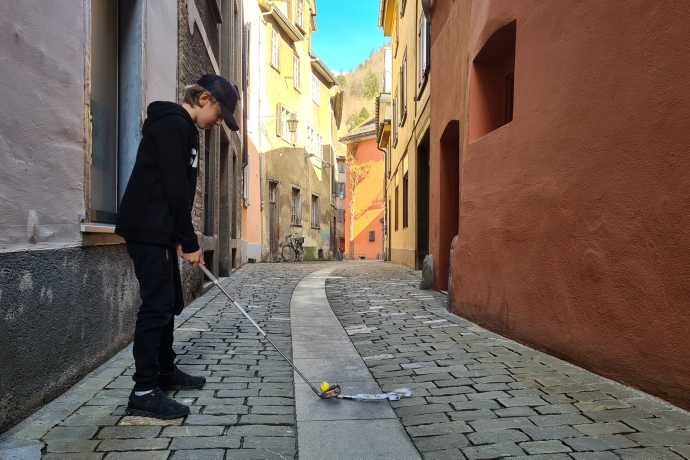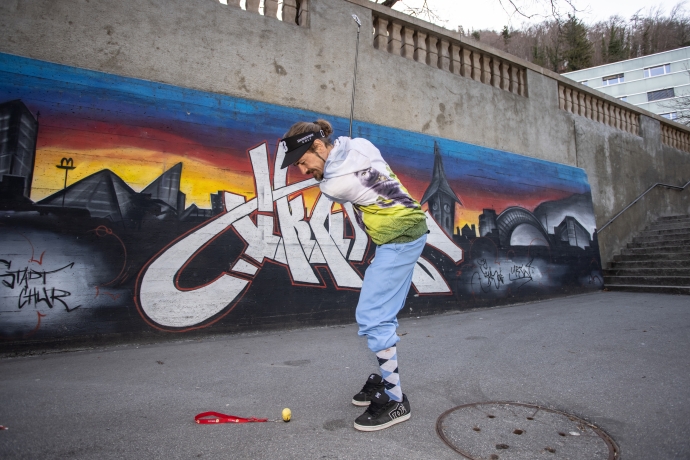 Show all 11 images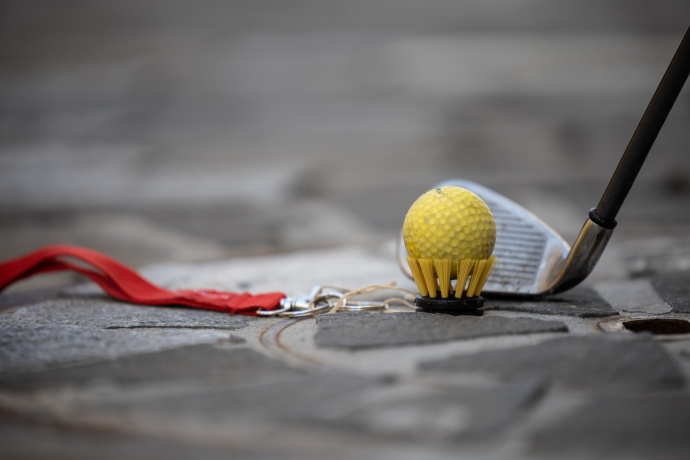 Prices
CHF 15 (adults 16 years and older)
CHF 10 (children, 15 and under)
CHF 5 (children, 11 and under)
Services
Urban Golf Equipment (golf clubs, special Urban Golf softballs, «Bäseli» to tee off, lanyard for attaching to the «Bäseli»).

Information sheet with instructions, course map, scorecard and writing utensils.
Discounts
20% discounts are available for:
Discounts cannot be accumulated.
Details
Starting point (material issue)
Regional Information Centre, Chur railway station
Starting times summer April-October
Monday: 8.00 - 12.30 / 14.00 - 16.00 
Tuesday: 8.00 - 12.15 / 14.00 - 16.00
Wednesday: 8.00 - 12.15 / 14.00 - 16.00 
Thursday: 8.00 - 12.15 / 14.00 - 17.00
On Thursdays, later starting times are possible. Please check the section Evening session below for more information.  
Friday: 8.00 - 12.15 / 14.00 - 16.00
Saturday: 9.00 - 13.30 
Sunday: 10.00 - 13.30 
Starting times winter November-March*
*No golf-sessions possible when the ground is snow-covered and muddy
Monday: 8.00 - 12.30 / 14.00 - 15.00 
Tuesday: 8.00 - 12.15 / 14.00 - 15.00
Wednesday: 8.00 - 12.15 / 14.00 - 15.00 
Thursday: 8.00 - 12.15 / 14.00 - 15.00
Friday: 8.00 - 12.15 / 14.00 - 15.00
Saturday: 9.00 - 13.30 
Sunday: 10.00 - 13.30 
Start intervals every 15 minutes, max. 6 people per starting time. Groups of 6 - 9 people must therefore buy tickets for two starting times. It is best to book one slot completely and book the additional tickets at the following start slot (or at the previous start slot, depending on availability).
Duration
Children
Recommended for children from 6 years
Special children's clubs available
Reservation
Tickets can be purchased directly online. 
From 10 persons: Booking required 3 days in advance via reservation form.
Gift vouchers
You want to give the experience Urban Golf Chur to someone as a present? In our voucher store you can simply choose the desired amount (e.g. CHF 15 for 1 person or CHF 30 for 2 persons) and personalize it with the matching visual «Urban Golf» - this will certainly be well received!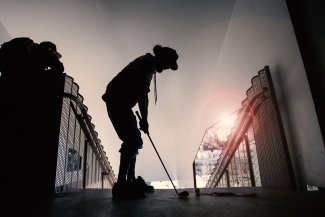 Available Thursday evenings during summer time, from 5.15 p.m. on. The equipment must be collected by 4.30 p.m. at the Tourist Information Centre. Please return your equipment at the Rätushof restaurant, right after the ninth course (Stadtbaumgarten) no later than 9 p.m. 
Other days of the week you can request returning your equipment the following day at the regional information centre. 
Reservation 
Up to 9 persons: Booking request form "Booking request evening golf ".  Reservations for evening golf are possible up to 1 day in advance via the reservation form. For requests for the same day, please contact us by telephone. Evening golf bookings are only valid after confirmation from Chur Tourism.
For groups (from 10 persons on): Booking request form "Booking enquiry groups". Booking required 3 days in advance. 

Special offer restaurant Rätushof
The Restaurant Rätushof offers a special package for a dignified finale (advance reservation required: info@raetushof.ch):
Golfer Drink: Grapefruit and Tonic with Ice, CHF 7.50

Mayor Drink: Grapefruit and Tonic, Gin with Ice, CHF 11.00

Birdie Burger: with Roquefort and bacon, potatoe wedges, CHF 19.00
Other days of the week you can request returning your equipment the following day at the regional information centre. 
Supported by the GKB Contribution Fund. Further partners: