Discover the versatility of the Alpine City of Chur. Here you will find useful information to offer your guests a perfect service.
Travel Trade requests for Chur and the Chur Rhine Valley please send to: 
Chur Tourism
Tel. +41 81 252 18 18
info@churtourismus.ch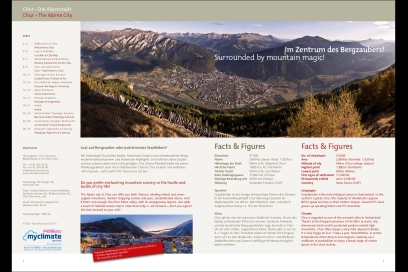 In our Sales Manual you will find the most important information about Chur and the Chur Rhine Valley. Let yourself be inspired: 
We will be happy to send you the price list for the current Sales Manual with prices for accommodation and offers separately.
Services for travel agencies and tour operators
Advice for travel programmes Chur
Advice for arranging a suitable event venue
Preparation of texts on Chur and photographic material
Preparation of brochures on Chur
Support for the organisation of FamTrips in Chur
Image presentation
Get a better picture of Chur - The Alpine City and let yourself be inspired of what Chur and the surrounding region has to offer. 
Top Sights & Attractions
The city of Chur has a lot to offer and in the closer surroundings, very easy to reach by public transport from Chur, there are to found some very special attractions.
Media Texts
Pictures database
Here you will find a collection of selected pictures of the Alpine City of Chur:
For editorial purposes we provide photos from our extensive picture database after arrangement. Other use only in agreement with Chur Tourism.