Chur Tourism promotes and creates offers in the area of strategic success positions Old Town, Railway Experience, Hub & active (Excursions, Hiking, Bike/Velo, Winter Sports) and Culture / Architecture. We maintain a strategic cooperation with neighbouring destinations, the marketing organisation «Graubünden Ferien», the Rhaetian Railway, the Chur cableways, the Chur sports facilities and other important partners. We provide strategic support for important events and provide our members with exclusive and sustainable benefits. 
We give our guests a feeling of welcome and provide them with optimal information. Loving life in the alpine city, we do our best that our guest love to stay here too and might become to regular guests.  With local partners and politicians we promote tourism awareness and tourism cooperation. Our high standards of quality and professionalism make us a role model for our partners. 
Chur Tourismus fördert und schafft Angebote im Bereich der strategischen Erfolgspositionen.

Chur Tourismus pflegt eine strategische Zusammenarbeit mit Nachbardestinationen, GRF, RhB, BCD und weiteren wichtigen Partnern.

Chur Tourismus unterstützt strategisch wichtige Anlässe.

Chur Tourismus erbringt für seine Mitglieder exklusiven und nachhaltigen Nutzen.

Chur Tourismus gibt seinen Gästen ein Gefühl des Willkommen-seins, informiert sie optimal und vermittelt das Bild einer lebendigen Alpenstadt, damit sie wiederkommen.

Chur Tourismus fördert das Tourismusbewusstsein und die touristische Zusammenarbeit bei den lokalen Partnern und Politik.

Chur Tourismus ist durch seine hohen Qualitäts- und Professionalitäts-Standards seinen Partnern gegenüber ein Vorbild.

Chur Tourismus achtet besonders auf die Vollständigkeit der Dienstleistungskette.
Die touristische Arbeit der ReTO (regionale Tourismusorganisation) wird ständig kritisch hinterfragt und künftigen Anforderungen angepasst.

Die Zusammenarbeitsmöglichkeiten in regionaler, kantonaler, nationaler und internationaler Hinsicht werden auf touristisches Potential geprüft und ausgebaut.

Die ReTO ist ein modernes Dienstleistungszentrum. Ihre Tätigkeiten richten sich nach wirtschaftlichen Gesichtspunkten.

Die ReTO übernimmt Leadership in der touristischen Entwicklung der Region.

Die qualitative Verbesserung des touristischen Angebotes der Region sowie eine klare Marketingstrategie werden gefördert.

Die Öffentlichkeitsarbeit der ReTO trägt zur touristischen Wertschöpfung und Sensibilisierung in der Region bei.
DIE Alpenstadt: Urbane Kultur und mediterrane Lebensfreude inmitten der einzigartigen Bergwelt Graubündens.

DER Ausgangsort für Bahnreisen, Ausflüge und Aktivitäten in der ganzen Ferienregion Graubünden.

Älteste Stadt der Schweiz: Faszinierende Geschichte, Kultur und Architektur in der autofreien Altstadt.

Einzige Stadt der Schweiz mit eigenem, direkt aus der Stadt erschlossenem Sommer- und Wintersportgebiet.

Klima: Eine der wärmsten Städte der Schweiz und nebelfrei.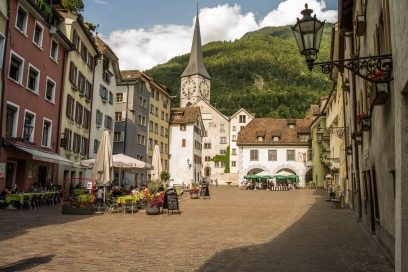 Together for the city and our beautiful region: As a member of Chur Tourism, you support us in positioning and marketing Chur and the surrounding area in the tourism market.
Jahresbericht Chur Tourismus