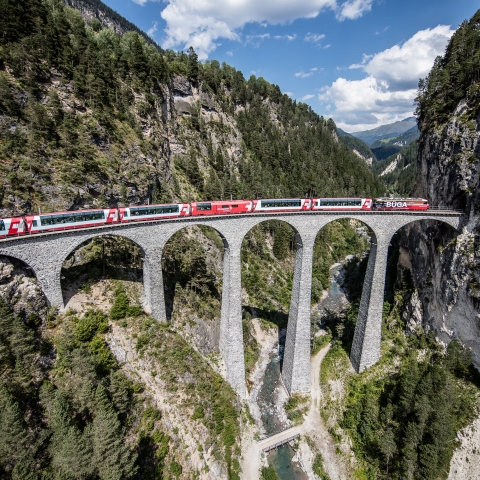 The Glacier Express is the classic among the panorama trains through Switzerland. The journey is an eight-hour experience in which one highlight follows the other and you too can board the "slowest express train in the world" and embark on a breathtaking journey between St. Moritz and Zermatt.
The Glacier Express offers an eventful voyage of discovery with numerous highlights. The journey from St. Moritz, Davos or Chur over the Oberalp pass to Zermatt leads through untouched mountain landscapes, over mighty mountain rivers and past rugged rock faces. Thanks to its roof-high panoramic windows, the Glacier Express offers a clear view of the impressive landscape. To make sure you don't miss a highlight, headphones will tell you everything you need to know about the route across the Alps.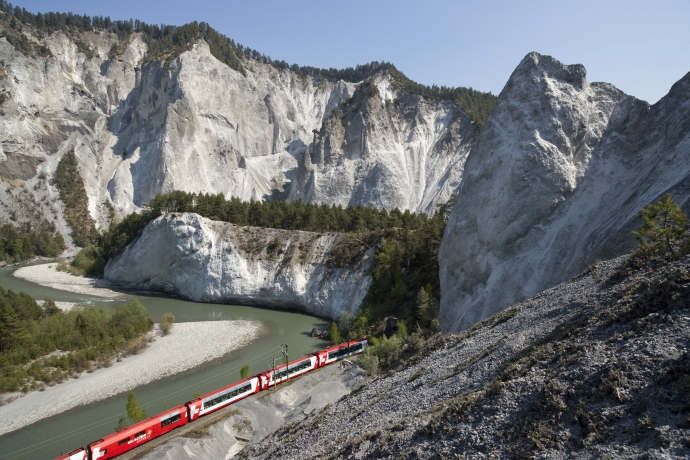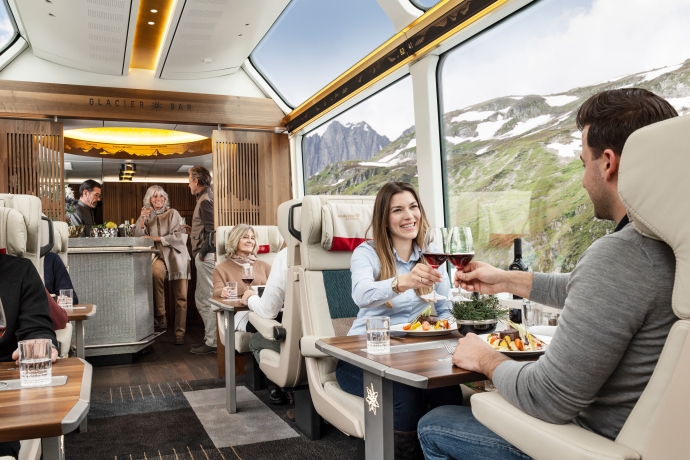 Show all 8 images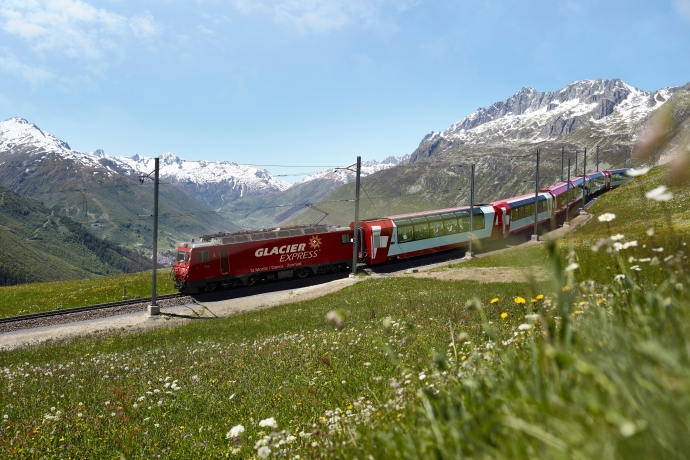 The 8-hour journey on board the slowest express train in the world takes passengers over 291 bridges and through 91 tunnels. From cosmopolitan St. Moritz the train snakes its way through the Albula Valley to Chur. Your trip then continues in the Glacier Express through the Rhine Gorge, Switzerland's very own Grand Canyon. You reach the highest point of the journey on the Oberalp Pass, at 2033 metres above sea level. Then it's downhill: via Andermatt and Fiesch in the unspoilt Goms. The destination is approaching: soon the Matterhorn comes into view.
Travel is known to make you hungry. And so the Glacier Express offers its passengers not only a feast for the eyes but also the finest culinary delights: you can enjoy the starter, main course and dessert right at your seat. The dishes are prepared daily with fresh, mainly local products on board. In addition to a 3-course menu, there is also a choice of dishes of the day and a variety of à la carte dishes.
Video Glacier Express: The slowest express train in the world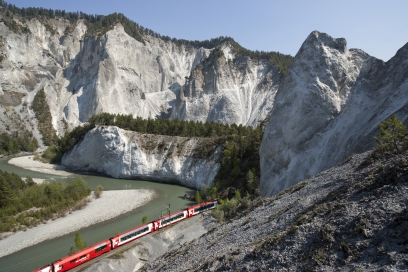 Book now.
Rail package offers with the Glacier Express
The short journey with the Glacier Express between Chur and Brig is an unforgettable experience. Surrounded by a fantastic mountain panorama, you travel through the impressive Rhine Gorge to Disentis, over the Oberalp Pass and through the Goms to Brig.
More info on the Glacier Express