Snowshoe Arena Dreibündenstein.
On the way from Brambrüesch to Feldis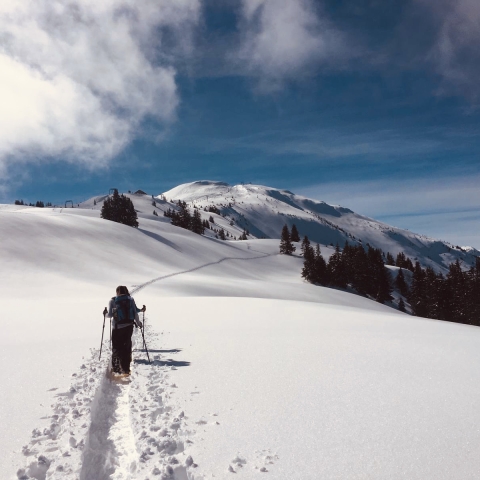 Magnificent panorama, cosy mountain pubs and well-signposted routes: The snowshoe hike from Brambrüesch to Feldis offers a winter experience at its best.
The Snowshoe Arena Dreibündenstein connects the three winter sports areas of Brambrüesch, Feldis and Pradaschier for snowshoe hikers. Signposted snowshoe routes lead from the three stations to the Dreibündenstein high plateau, opening up great opportunities for varied snowshoe tours. We chose the 8 km GR 1 route from Brambrüesch to Feldis - a wonderful winter sports experience!
If you don't have your own snowshoes, you can rent suitable equipment from the AIS sports school at the starting point in Brambrüesch. Thanks to the flexible rental system, the equipment can be conveniently returned to Mutta Sport at the valley station in Feldis.  
The Bergbaiz is located directly opposite the AIS sports school. For us, this is the ideal place for a little refreshment before we strap on our snowshoes and set off in the direction of Dreibündenstein and into the winter wonderland.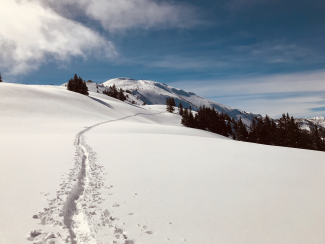 It's a picture-perfect winter's day: the sun is shining and freshly covered in snow, the landscape looks like it's been coated with thick icing. We trudge thoughtfully through the snow, enjoying the silence and the far-reaching view. 
After a while we reach the bottom station of the upper lift. Here we have the option of comfortably covering the remaining metres in altitude almost to the Dreibündenstein with the Furggabüel chairlift. Because it is so beautiful, however, we leave the chairlift on the left and trudge blithely on. The highest point of the tour is practically in sight.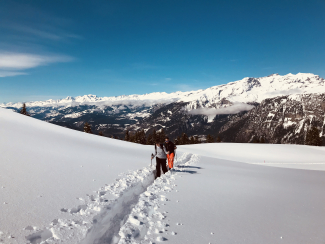 Having arrived at the stone obelisk on the Dreibündenstein at 2160 metres above sea level, it is worth taking a break and enjoying the panorama. Down to the Surselva, over the mountain ranges of the UNESCO World Heritage Tectonic Arena Sardona, the Grisons mountains and far beyond.  
The rest of the trail from Dreibündenstein to Feldis is also full of views. Flowing, mostly downhill or straight ahead, the trail leads through almost untouched snow landscapes. It is pure pleasure to be out and about here on snowshoes! 
Speaking of enjoyment... The ski hut Feldis is located at the end point of the hike, so to speak. It's worth taking a break here. Not only because of the cosy sun terrace. The cake is a dream, the coffee good & strong, the iced tea homemade... A team with a lot of passion is at work here and you can tell.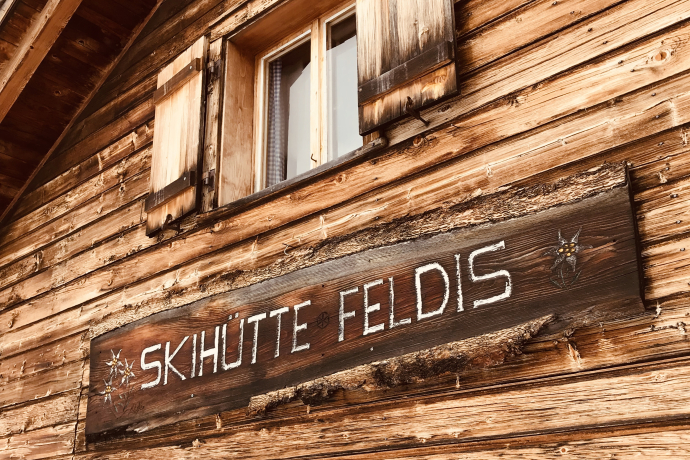 Show all 3 images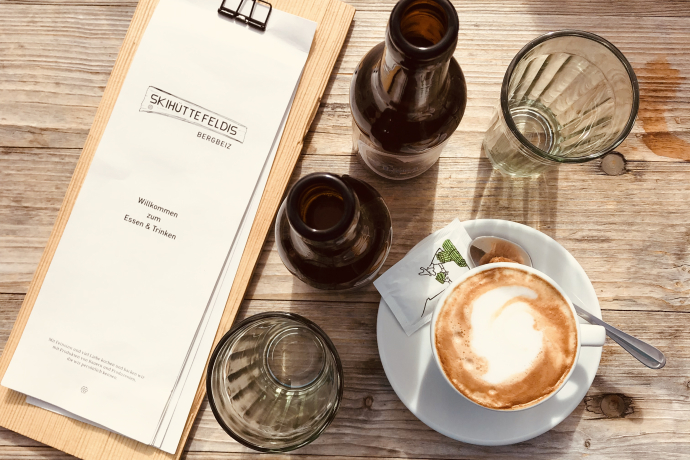 And while we sit in the afternoon sun and sip our drinks, satisfied and slightly tired, we all agree: this was definitely not the last snowshoe tour at the Dreibündenstein...