Overview snowshoe routes Dreibündenstein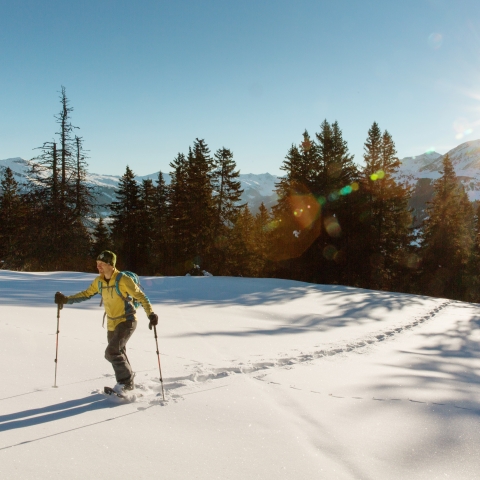 The Dreibündenstein Snowshoe Arena connects three winter sports areas via the Dreibündenstein plateau with a total of seven marked routes. The offer is supplemented by further unmarked routes, several winter hiking trails, rental stations, mountain restaurants as well as sledge runs and a toboggan run.
Overview official snowshoe routes
This list shows the official snowshoe routes signposted in the terrain:
GR 6: Circular route Dreibündenstein from Pradaschier
*  Routes also possible in the opposite direction
The following tours are listed in the brochure and in the map in orange colour:
Spundisköpf
Hühnerköpfe – Malixer Alp
Feldis winter hiking trail – Feldis Dorf 
These variants are not signalized. In combination with the signposted routes, they offer alternative or extended snowshoe tours. These tour suggestions are listed in the official snowshoe map of Dreibündenstein (1:25'000). It is recommended to carry the map with you and you should be able to read topographic maps and to orientate yourself in the terrain. It is also recommended to carry basic safety equipment (avalanche transceiver, probe, shovel).
Map Snowshoe Arena Dreibündenstein
The official snowshoe map on the Swisstopo 1:25'000 map includes all routes (signposted and other tours) and many other important information about the Snowshoe Arena Dreibündenstein. It is available for CHF 2.00 from all mountain railways and tourist information offices or can be ordered for CHF 3.50 (incl. shipping costs) here: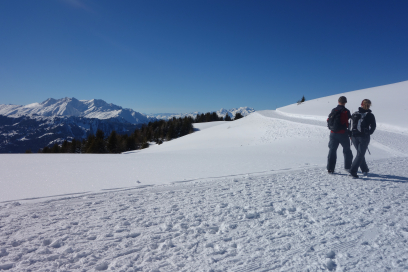 The following signposted winter hiking trails in Brambrüesch and Feldis can be combined well with the snowshoe routes: