Audio Guide - personal city guide to listen to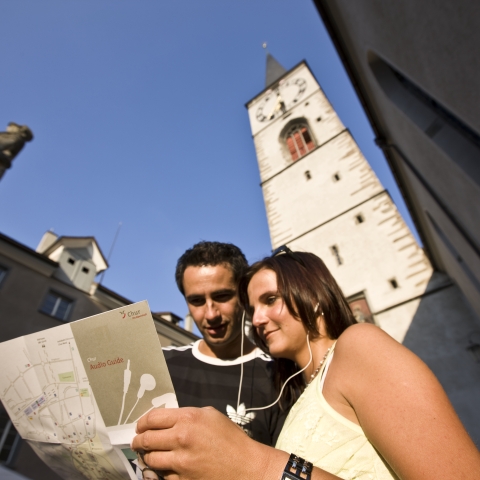 If you want to explore the Alpine City of Chur on your own, the
City E-Guide
is the perfect companion. It is available in German and English. For other languages, the Audio Guide is available in various languages. The Audio Guide from Chur Tourism is the individual city tour for your mobile phone or MP3 player. In 32 chapters you will learn a lot of interesting facts about the history and culture of the Alpine City of Chur and the holiday canton of Graubünden. With the help of a clear map, you can find your way around and select the desired chapter at the respective location.
At the Regional Information Centre at Chur railway station you can rent an audio guide device for CHF 9 (CHF 50 deposit / ID card) for a whole day and receive the audio guide city map at the same time.
Headphones - bring your own or buy them on site
If possible, we recommend that you bring your own headphones. Due to the protective measures associated with Covid-19, headphones can only be purchased (CHF 5 / pc) and not rented anymore.
Download the Audio Guide 
Simply select the language you require and load your free copy of the audio city tour onto your PC, then transfer the data onto the electronic device of your choice. Then all you need is the Audio Guide city map. You can either download it here or obtain it from the Regional Information Centre at Chur Railway Station.

Download Audio Guide city map: 

Download Audio Guide MP3 files in your language:      
Important note for the download: A direct download to your mobile phone is not possible. The file must first be downloaded to the computer from where it can be transferred to the mobile phone.