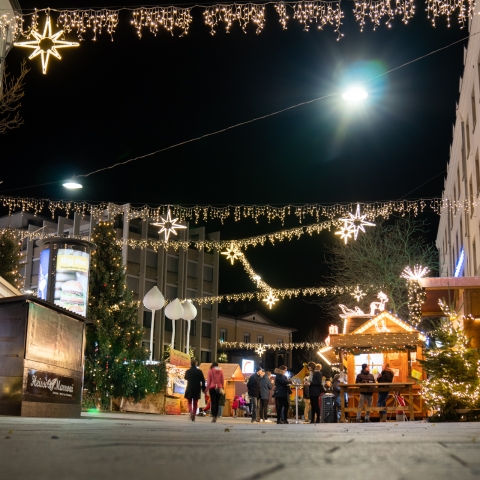 From 27th November to 23rd December 2021, the Christmas market in Chur brings a beautiful, Christmassy atmosphere to the city center of Chur. 
A small but fine range of market stalls provide a Christmassy ambience in Chur's city centre during Advent. From culinary delicacies to decorative items and handicrafts, you will find a nice selection of gift articles here. 
Opening hours Christkindlimarket
26 November to 23 December 2021
Monday to Sunday, 11 a.m. - 8 p.m.
Coronavirus: Protection concept
When visiting, please follow the current protection concept, which can be found at www.christkindlimarkt-chur.ch
Santa claus, fairy tale christmas, adventure street.
Accompanying programme
Visit of Santa Claus 
Traditionally, on the first Saturday in December, Santa Claus comes to the Merzvorplatz and hands out sweets to the children. 
Date: 4 December 2021
Time: From 12.30 p.m. on
Location: Children's fairy tale houses and at Café Merz, Bahnhofstrasse Chur
Children's fairy tale christmas
Accompanying the Christkindlimarkt, the Children's Fairytale christmas will take place on the forecourt of Café Merz,  Bahnhofstrasse Chur. 
Duration: 26 November to 23 December 2021
Opening hours: Monday to Sunday, 11 a.m. - 8 p.m. 
Adventure Street
The Poststrasse will be transformed into an adventure street during Advent. Visitors can practice various winter activities in the beautiful old town and enjoy the Christmas ambience while having fun. The adventure lounge provides convivial moments with food and drink.
Duration: 1 to 24 December 2021
Opening hours: Monday to Sunday, 11 a.m. - 9 p.m.
Activities: Curling and curling rink, Christmas ball throwing house, cross-country skiing rink, adventure lounge
Location: Poststrasse Chur
ChurCard Aktion am Christkindlimarkt
ChurCard Besitzerinnen und Besitzer erhalten an verschiedenen Ausgabestellen gegen Vorweisen der Karte einen Bluzger im Wert von CHF 5.-. Dieser kann am Christkindlimarkt an jedem Stand am Markt eingelöst werden.