Offer Day trip
Moorland course on Brambrüesch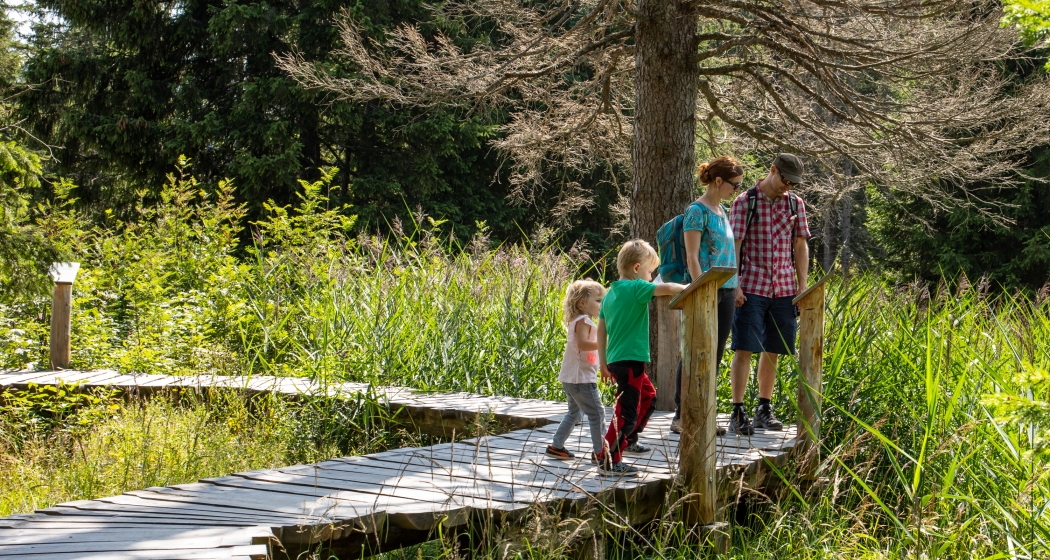 Explore the moory landscape on Brambrüesch on the moorland course. For families with children, the WWF research bag offers the perfect equipment to explore the wonder world of the moorland with exciting games and experiments.
In the course of extensive renaturation, a remarkable biotope has developed in the Riedboden area on Brambrüesch. Where a swamp already used to be home to many amphibians, animals and plants, a moorland now offers many species a new home and nature regains more habitat. 

The moorland course leads through a moorland landscape - a wooden walkway guides visitors across the moor and information boards reveal all kinds of interesting facts about flora & fauna.  
WWF research bag
The course also serves to impart knowledge in the form of guided tours and training.  The WWF research bag was also designed for this purpose.

With the WWF research bag, you will discover the wonderful world of the moorland with exciting games and experiments. You explore the animal and plant world in and around the moor, find out on your own why life in the moor is not easy and get to know the area with all your senses. The explorer bag is also ideal for families with children.
Lending WWF research bag: AIS sports school, Tuesday-Sunday
Price WWF research bag: Per bag CHF 10
Deposit: ID or passport
Opening hours
Open during operating hours of the cableways in spring / summer / automn
Further information
Click here to have more information about the moorland course on Brambrüesch.