Barrier-free city of Chur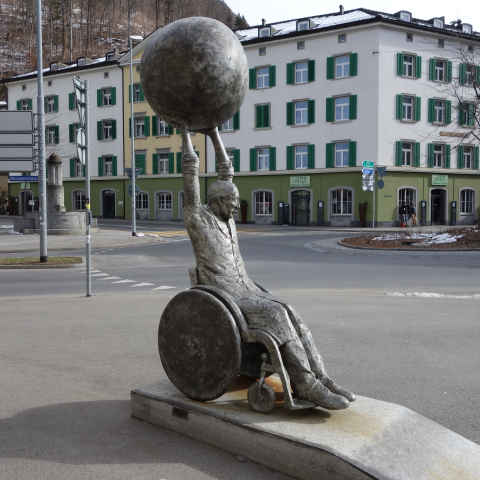 As a city with one of the largest traffic-free zones in Switzerland, the Old Town is of course particularly suitable for wheelchair users - including its offers for shopping, eating, strolling, culture (museums), etc.
Since 2015, the entire Bahnhofstrasse, from Bahnhofplatz to Postplatz, has been car-free, so that access from the wheelchair-accessible station to the traffic-free Old Town is possible via pedestrian zone (a street with a traffic light system only needs to be crossed once). The newly designed Alexanderplatz with a water feature and drinking fountain in the middle of the pedestrian zone also invites you to linger and stroll.
Hotels with wheelchair-accessible rooms
The following hotels in Chur offer individual, fully furnished, wheelchair-accessible rooms:
Touch model of Chur's old town
Switzerland's oldest city is palpable thanks to a touch model for the blind and visually impaired. The model helps blind and visually impaired people to get an idea of the Old Town of Chur. It is also a useful tool for city tours and an attraction for children. The bronze model is located in the Old Town on Martinsplatz. The 1:500 miniature stands on a concrete base and is also accessible for wheelchair users. The names of the most important buildings are in letters and Braille.

ParaMap
«ParaMap» is a platform that summarizes information on wheelchair-accessible locations of different categories. The desired information is clearly displayed on a map. At the moment the following categories are available (further categories are planned):
Wheelchair-accessible parking spaces 
Wheelchair-accessible toilets (Eurokey) 
Wheelchair-accessible hotels
The mobile web application is available as an iPhone-App and as a desktop-optimized version verfügbar. Here you will find instructions for using «ParaMap». The application is available in three national languages.
Other helpful documents
The city guide "Rollend durch Chur" (rolling through Chur) contains useful information for wheelchair users regarding travel, accommodation, sanitary facilities and special offers.