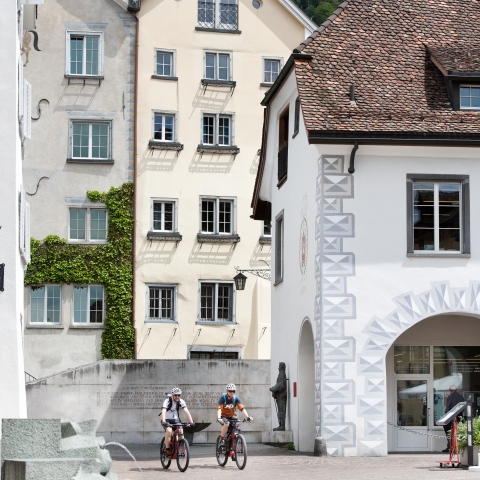 It is not by chance that Chur has already won a "Prix Velo" several times. The offer and the infrastructure for cyclists is excellent both in the city centre and regionally for cycling tours and excursions. Thanks to perfect connection to the cycle-friendly railway and post bus network, even distant destinations can be easily reached.
Chur lies on the internationally renowned Rhine Cycle Route and is a popular stopover on this route. Chur is also an ideal starting point for cycling tours, be it flat routes in the Rhine Valley or routes with more gradients in the beautiful mountain canton of Graubünden. But also the city itself offers a great infrastructure for cyclists. It offers attractive, safe and connected cycle paths and also a close-to-target, easily accessible, theft-proof and weatherproof bicycle station. A good overview of the paths and infrastructure for cyclists can be found in Chur's cycling city map.
But the city itself also has its charm: The car-free Old Town is a real gem; in many places there are cosy cafés and the selection of different restaurants is very large. There is a wide range of offers for shopping and you don't have to look far for the bike shop either. Also culturally you get your money's worth, if you want - and in the evening various bars and clubs lure into the alleys. Chur is a city in the Alps, but it is also characterized by a thoroughly Mediterranean ambience. Due to the low altitude, the temperatures are predominantly warm and the cycling season is long (if at all, the winter break is only very short, many locals cycle all year round).
The Chur train station is an important station of the Swiss Federal Railways and also the stop of the most important international railway lines from Germany and the Benelux countries, as well as the main station of the Rhaetian Railway. With the additional large post bus station at the same location, trains and post buses run from Chur in all directions every minute. Bicycles can also be easily transported by train or post bus. 
Prix Velo
The city of Chur has already won a Prix Velo several times. Why and in which category you can find out here:
Cycling city map
The cycling city map gives an overview of the cycle paths and the most important infrastructure for cyclists (in German).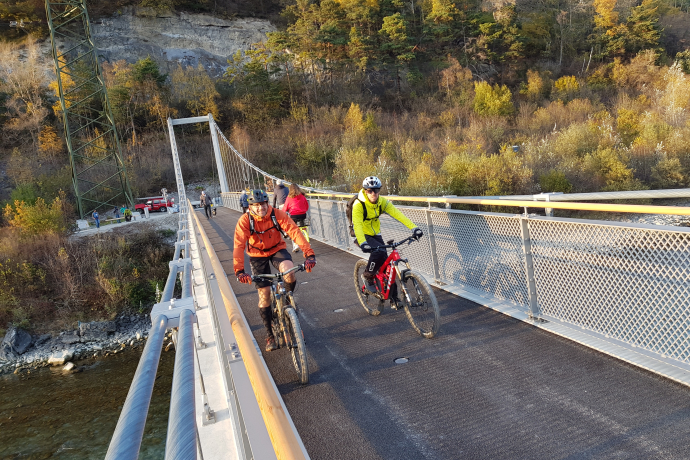 Show all 2 images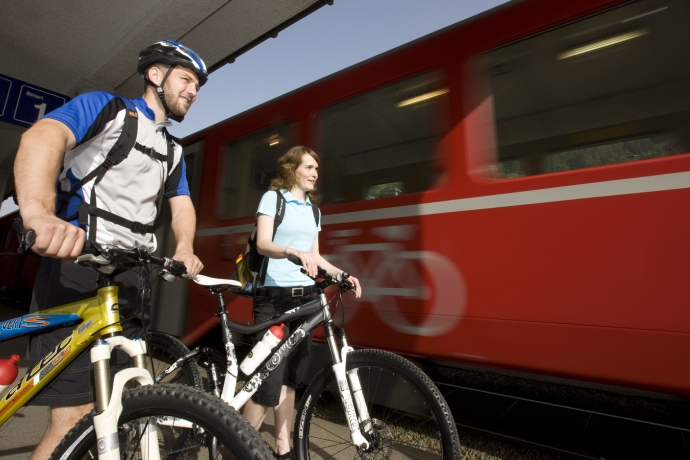 With the graubündenPASS you can enjoy free travel throughout the canton of Graubünden on the Rhaetian Railway, Graubünden Postbus and several local bus lines. A pass is available for 2 days (valid for 7 days) or a pass for 5 days (valid for 14 days). You can choose your preferred region (Zone North or Zone South), or book all of Graubünden at once (all zones). With selected mountain railways you can also travel to your favourite mountain at half price or receive attractive discounts on leisure activities.
The special version graubündenPASS Bike is designed for mountain bikers and cyclists and includes the transport of bicycles. The offer is valid for one day and is only accepted in combination with bicycle transport.