Running events in Chur and surroundings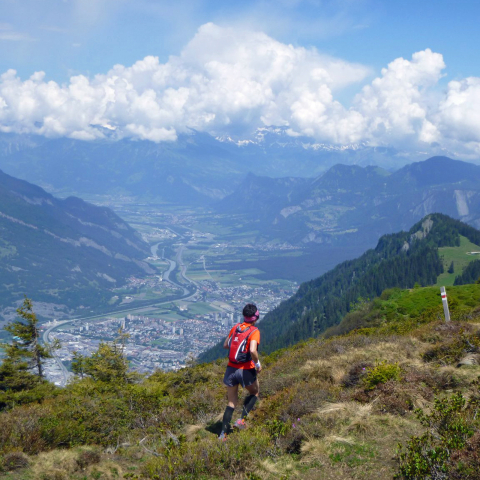 In Chur and the Graubünden Rhine Valley several runs attract walkers and runners every year to the beautiful trails of the surrounding area. There is something for every taste and every level in the varied offer.
Mittenbergrennen
5 km
Jogging and/or biking up the Mittenberg. It takes place twice a year.
Churer Stadtlauf by Ruedirennt.ch
21.1 km / 10.55 km / 5.275 km / Children's routes
Charity half marathon in the city of Chur, participation also possible as a team in the relay. Special short distances for children as well as a Special Olympics category.
Trail Run Chur
6.9 km / 12.5 km / 15.7 km / 28.2 km
Event for trail runners with challenging, but rewarding and scenic routes, mainly on Chur's local mountain.
Churer Fürstenwald Lauf
1 km / 4 km
Event for children, juniors and adults in the Fürstenwald woodlands. 
B2Run Chur 
5.9km
Running and nordic walking event for companies. 
Churer Laufparade
640 m per lap
City relay for teams, at the same time the Churer Staffel-Schüeli / UBS Kids-Cup takes place.
Running events in the Graubünden Rhine Valley
Wingert Event, Felsberg
8 km / 16 km
Jogging or walking through the beautiful landscape between Felsberg and Tamins.
Bündner Frühlingslauf
21.1 km / 10 km
Running event for joggers and nordic walkers between Thusis and Reichenau.
Transviamala
19 km / 15.8 km / 11.5 km / 4.4 km / Children's routes
Run between Thusis, Andeer and Donat through the Viamala Gorge for joggers and walkers as well as special routes for children.
Transruinaulta / Transruinaulta Curta 
42 km / 24 km
Trail marathon between Ilanz and Thusis or Ilanz and Rhäzüns, which leads through the Rhine Gorge.