Recipe Bündner Spezialitäten
Alpine City Sushi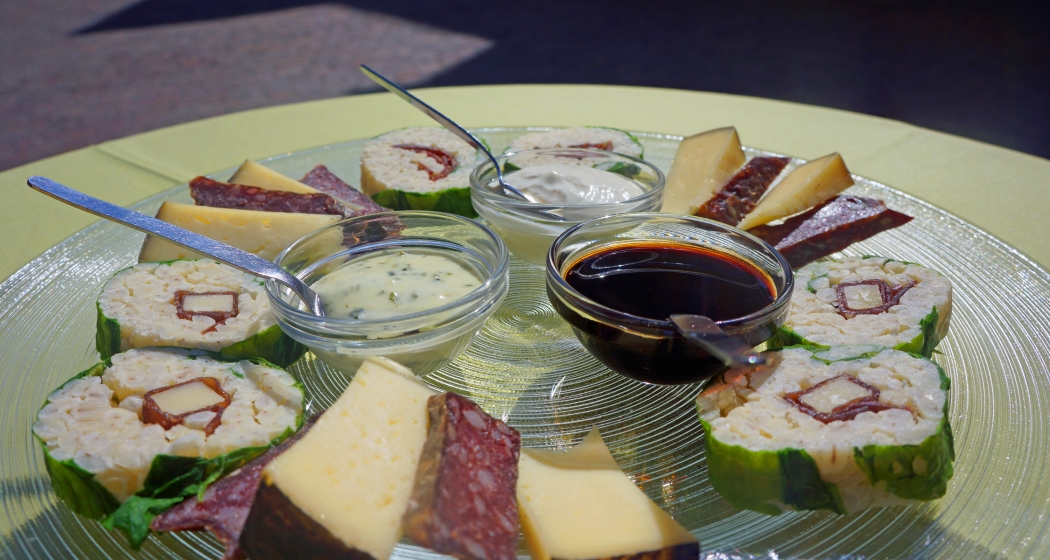 Our cows summer on the Chur Alps in Arosa. Their milk is processed into alpine cheese and the new «Alpine City cheese» at the Maran alpine dairy. The naturally matured semi-hard cheese is produced in a reduced quantity and is characterised by its mild, nutty aroma. With increasing age, the aromas intensify and the Alpine City cheese becomes more pure. For those who like to incorporate Alpine City cheese into a modern recipe with regional ingredients, we recommend the Alpine City Sushi recipe.
Ingredients (for 4 people)
300 g Alpine City cheese
250 g barley
6 dl light vegetable boullion
2 dl cream
6-8 slices of thinly sliced Dried Meat from Graubünden
4 large chard leaves
To start
Put the barley on, add a little onion and deglaze with light vegetable boullion. Simmer on low heat until barley is soft, add cream, simmer for a few minutes until mixture is creamy and thick. Remove from the heat and leave to cool. At the same time, separate the chard leaves from the thick stem, blanch briefly in boiling salted water and cool in ice water (to preserve colour and flavour). Cut Alpine City cheese into sticks as long as possible, 1-2 cm thick, and wrap with very thinly sliced Dried Meat from Graubünden.
Preparation
Moisten the base and spread the cling film on it (it should stick). Lay drained chard leaves on foil, spread warm barley cream about 1cm thick and about 15cm wide on top, place Alpine City cheese sticks in the middle and carefully roll up in cling film. Press the roll well so that no air bubbles form. For a nice round shape, roll up on both sides like a sweet. Chill for approx. 2 hours.
Presentation
Cut 2-3 cm thick slices and serve with curd cream, wasabi or soy sauce.
Suggestion
Let your imagination run wild. The ingredients can also be rolled in a different order. Or you can colour the barley yellow with saffron.