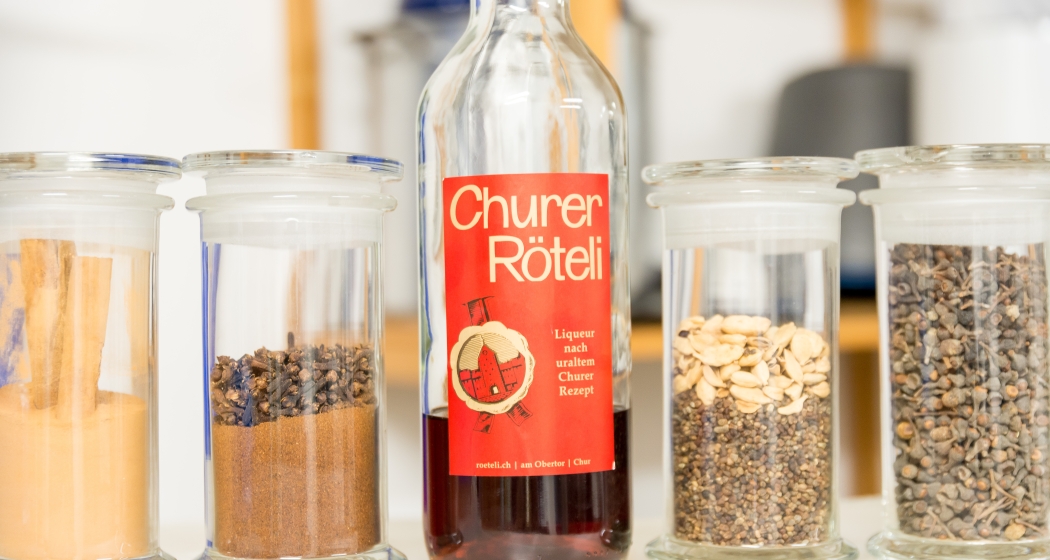 The Chur Röteli is one of the oldest Graubünden specialities. It is made from fruit brandy, kirsch and possibly pure alcohol, water, sugar, dried mountain cherries, cinnamon, vanilla sticks, cloves and cardamoms. The special aroma and flavour of the Chur Röteli is given - in addition to the spices - by the juice and stones of the increasingly rare mountain cherries, which are harvested at the beginning of August.
The actual production process takes a good six months. There are two methods for creating the spice essence. In the first case, the uncrushed spices are mixed and soaked with the cherries in alcohol for up to a quarter of a year before the desired tincture is filtered off. The remaining residue is finally pressed out with a hand press. In the second case, the already pulverised spice mixture is macerated in alcohol for 10 to 14 days and then pressed out. In both cases, the juice of dried mountain cherries, alcohol, sugar water and kirsch, possibly blueberry juice, are added to the extract obtained. This finished mixture is stored for several months to mature until the liqueur, filtered again, is bottled, encapsulated and labelled for sale in late autumn.
Chur Röteli is produced by the Ullius family in Chur, among others, and is already in its fourth generation. It is based on a recipe that came into the hands of the family of druggists in 1912 and has been continuously refined and cultivated ever since.
The annual production of this delicious, reddish-brown liqueur with approx. 26 percent alcohol by volume in the Ullius family business is around 5000 bottles.
Further information and online shop
www.roeteli.ch