Offer Culinary Tour
Culinary tour: Pleasure hike Dreibündenstein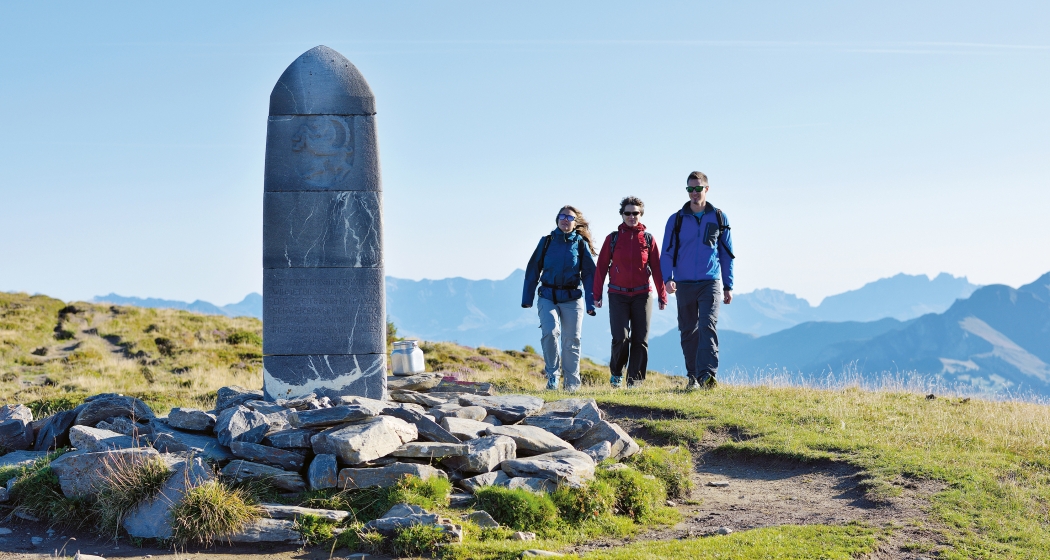 Beautiful and panoramic hike over the Dreibündenstein plateau to Feldis. Including a picnic bag with regional specialities for a pleasurable break on the way.
Chur is the starting point for the beautiful panoramic hike from Chur's local mountain Brambrüesch over the Dreibündenstein to the mountain village of Feldis. The beautiful panoramic hike leads through an enchanting alpine flora and offers magnificent views of the surrounding mountains. The Dreibündenstein is summit and historical border point at the same time. The stone monument marks the common border point of the former three Rhaetian leagues. The summit offers a magnificent panorama over the mountain ranges of the UNESCO World Heritage Tectonic Arena Sardona, the Grisons mountains and far beyond. It is the perfect place to stop, take in the panorama and enjoy a picnic with regional products from the picnic bag. 

The descent to Feldis leads you through a rich alpine flora, idyllic forested landscapes, alpine hamlets and the mountain lake of Leg Palus. From Feldis you take the gondola lift to Rhäzüns, crossing the Rheinauen at Rhäzüns at a lofty height with great views of one of the last major natural river landscapes of the Rhine and one of the most intact floodplain landscapes in Switzerland. From Rhäzüns you can take the Rhaetian Railway or the city bus back to Chur.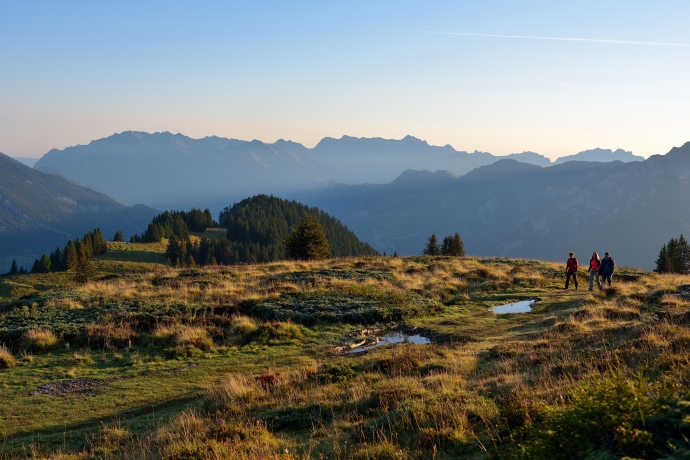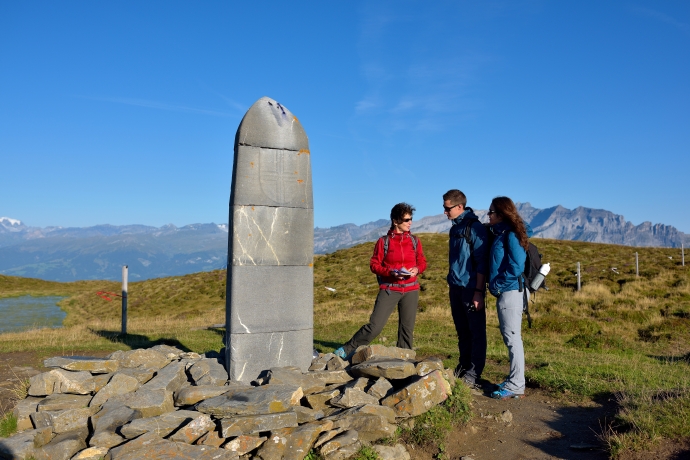 Show all 7 images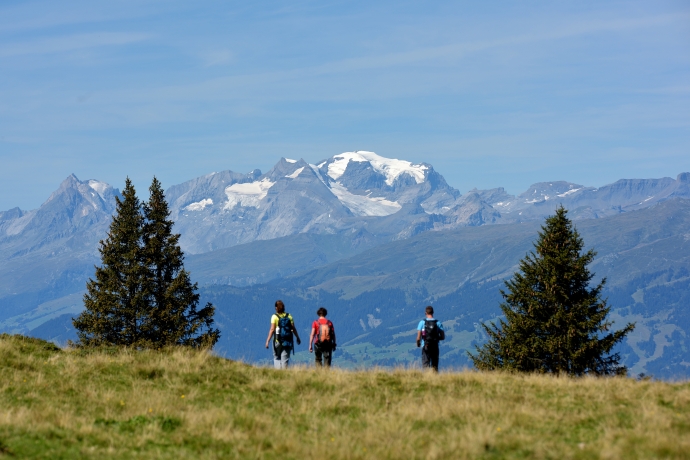 Tour details
Starting point: Valley station of the Chur Cableways
Recommended starting time: between 9am - 10am
Duration: 6 h
Hiking time: approx. 3 

½ 

h (with use of chairlift from Mutta) / approx. 4 h (hike to Feldis)

Accessible

to

prams

:

No

Wheelchair

accessible

:

No

Route: Top station of Brambrüesch gondola - Spundis - Furggabüel - Dreibündenstein - Mutta - Feldis 
If you use the chiarlift Mutta-Feldis, the route is shortened by approx. 40 minutes
Children: Recommended from appr. 10 years or as soon as the children can walk a longer distance on their own
Services
Map with detailed information about the route
Aerial cableway ride Chur-Brambrüesch
Picnic bag with specialities from Graubünden, all products of regional production
Optional: Chairlift ride Mutta-Feldis (only during operating hours of the chairlift)
Cableway ride Feldis-Rhäzüns
Return journey by bus or train from Rhäzüns to Chur
To bring with you
Drinks and a pocket knife for the picnic (to portion the products) 
Prices
Adults (from 16 years on): CHF 95
Adults with Halffare-Card / GA / Swiss Travel Pass: CHF 83
Children (6-15 years): CHF 70 
Bookability
10. June - 22. October 2023: daily 
Booking deadline
For indiviudals & groups: 4 days in advance
With a Geschenkidee voucher by booking request form: 4 working days in advance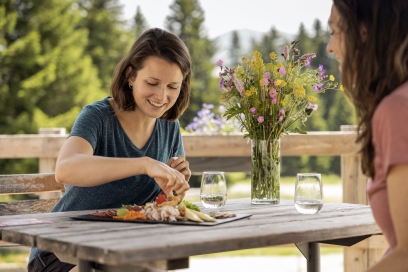 Discover.
Further culinary tours
Explore the Alpine town of Chur and the Rhine Valley on a culinary hike, a culinary bike tour or a culinary snowshoe tour.