Snowshoe round tour Brambrüesch - Feldis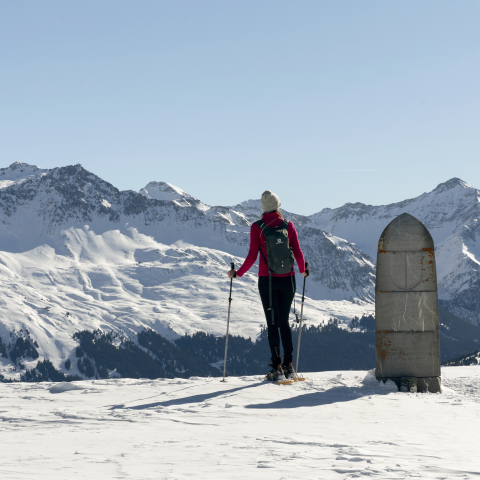 The incomparably beautiful and varied circular tour across the Dreibündenstein plateau connects the two small but fine winter sports areas of Brambrüesch and Feldis. The attractive round trip ticket includes all trips with the mountain railways as well as the return trip by bus or train.
The ascent from Brambrüesch leads first through idyllic forest sections before at Spundis the view opens up towards Dreibündenstein. With a magnificent view of the mountains and valleys, you hike further up over the Hühnerköpfe and to the highest point on Furggabüel, where a 360° panorama opens up, which extends from the local mountains around Chur, Arosa and Lenzerheide to the Glarus Alps. The overthrust of the UNESCO World Heritage Site Tectonic Arena Sardona, which can be seen from here on the opposite Ringelspitz to the Flimser mountains (Segnes, Tschingelhörner), is also very impressive. On the two-part panorama board at Furggabüel you can find the names of the peaks and the Tectonic Arena Sardona. The chair lift Hühnerköpfe - Furggabüel can be used to shorten the ascent. 
The descent leads along beautiful landscapes with snow-covered forests and alpine settlements to Mutta, from where the chair-lift takes you comfortably to Feldis. From Feldis you can take the cable car to Rhäzüns and the Chur city bus or the Rhaetian Railway back to Chur.
This tour is signposted in both directions (GR1).
1: without use of the chairlift Hühnerköpfe-Furggabüel 
2: with use of the chairlift
Length: 7.9 km (1) / 6.9 km (2)
Altitude meters / ascent: 579 m (1) / 352 m (2)
Max. height: 2174 m. ü. M
Grade: difficult (1) / medium (2)
Round trip: Chur - Brambrüesch - Dreibündenstein - Feldis - Rhäzüns - Chur 
(also possible in the opposite direction)
Round trip offer
incl. cable car Chur - Känzeli - Brambrüesch
incl. chair lift Hühnerköpfe - Furggabüel
incl. chair lift Mutta - Feldis
incl. cable car Feldis - Rhäzüns
incl. return journey Rhäzüns - Chur by bus or train
Note: Also possible in the opposite direction
Tariffs
The round trip tickets are available at the following mountain railways:
The round trip is possible in both directions (Brambrüesch-Feldis / Feldis-Brambrüesch). The tickets include the return journey to the starting point where the tickets were purchased.