Snowkite-Spot Brambrüesch-Dreibündenstein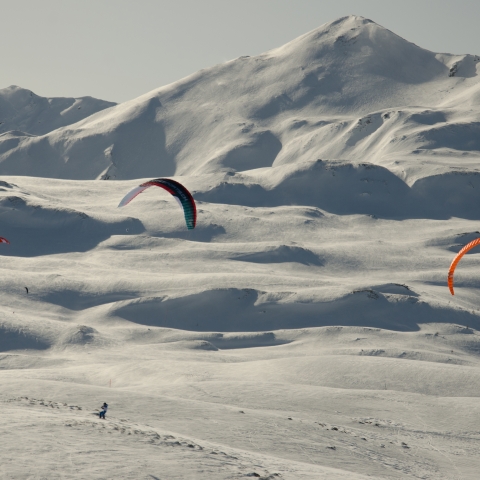 With the Chur Cableways you can easily reach the Dreibündenstein plateau at over 2000m. It offers ideal terrain for snowkiting and often good wind conditions. Many natural hills, hollows and cornices invite you to freeride - in front of a breathtaking 360° panorama.
The Dreibündenstein plateau on Chur's local mountain Brambrüesch is one of the most famous snowkite spots in Graubünden. It is an extensive, hilly plateau between the Furggabüel mountain station and the Fulhorn on the other side. Wind-technically, different directions work, but the most common on the Dreibündenstein are west and southwest, but there can also be good conditions for snowkiting from the north. As the spot is quite big, there can be different wind directions and strengths on the plateau. The snowkite spot Brambrüesch-Dreibündenstein has also been the venue of the Swiss Snowkitetour several times. 
Accessibility
The entrance is at the highest point on Furggabüel (2'174 m). You can reach it easily directly from the city of Chur with the Chur Cableways. Both single rides and day tickets are available at the valley station in Chur. From Dreibündenstein you can ski back to Brambrüesch on the ski slopes, and if there is enough snow you can even ski back to the Känzeli middle station.